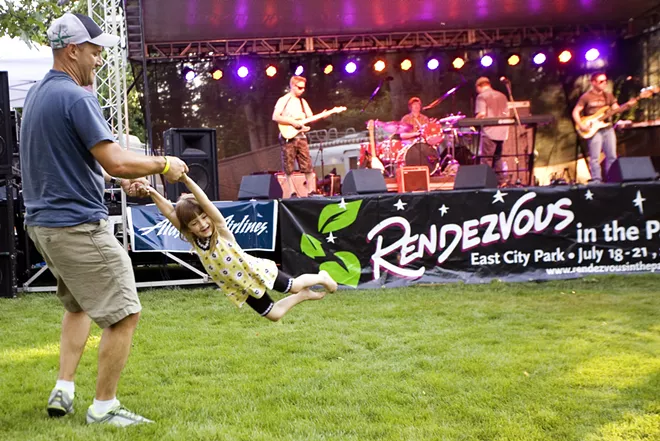 It's a small-town festival with a history of big names.


Taj Mahal, Mavis Staples, Riders in the Sky, Josh Ritter — they've all played Moscow's Rendezvous in the Park, which returns today through Saturday, July 14-16, at East City Park for its 40th year.


Rendezvous board President Tom Preston said he wouldn't be surprised if artists from this year's lineup are household names before long, including the Boston-based, genre-defying Ripe (featured below).


The all-volunteer board that organizes the event is proud to have kept prices down while continuing to bring in strong national acts and supporting the local music scene, Preston said.


A three-day festival pass is $50 at rendezvousinthepark.com; one-day tickets, $25, can be purchased online or at the gate. Music starts at 4:30 p.m. all three days. Beer and wine are available for purchase; alcohol brought from outside the park isn't allowed.


The event's signature showcase tonight, a sort of battle of the bands, puts established and emerging area artists on stage, with the regional focus continuing Friday and Saturday, when local bands open for the national acts.


Planning and fundraising is a near year-round effort, Preston said, and the event couldn't exist without the help of the Palouse's business community and a booster club of local supporters.


"In a normal year, the entire gate only pays for the rent of the stage, sound and lights," he said. "All the money for bringing in the music acts comes from business sponsors."


Hopes are high for a robust return for Rendezvous, Preston said, with the weather shaping up to be sunny and in the 80s.


"This is the first full three-day festival that we've been able to have since 2019," he said. "I think there's a lot of excitement in the community about Rendezvous coming back in full to celebrate the 40th, so we're hoping for a big turnout."


Stone (she/her) can be reached at mstone@inland360.com.
———
If You Go
What: Rendezvous in the Park
When: Music starts at 4:30 p.m. today through Saturday (July 14-16).
Where: East City Park, 900 E. Third St., Moscow.
Cost: $50 three-day pass at rendezvousinthepark.com/buy-tickets.html; $25 per day, at the gate.
The details: All seating is on the lawn. Attendees can bring blankets or chairs; only blankets are allowed in front of the stage and sound booth. Alcohol is available for purchase for those 21 and older with valid ID. Photography, audio and video recordings are prohibited. No pets.
Of note: A coordinating arts festival for children runs from 8:30 a.m. to 12:30 p.m. July 14-15 at the park. Information about the 30th Rendezvous for Kids is at rendezvousinthepark.com/rendezvous-for-kids.html.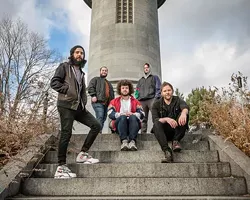 Artist spotlight: Ripe
Boston-based Ripe, made up of "musical soulmates" Robbie Wulfsohn, vocals; Jon Becker, guitar; Sampson Hellerman, drums; Calvin Barthel, trombone; and Nadav Shapira, bass; blends rock, funk, R&B, jazz and pop influences into a danceable sound.
"What we make is music you can dance to," Wulfsohn said. "We're drawn to the peak of a song — the emotional catharsis when everything comes out. It's all about reaching that moment. The revelation comes back to us when bodies shake with joy."
The band plays Friday, July 15. A sampling of their music is on its website at ripetheband.com.

Source: rendezvousinthepark.com/event-information.html