Irene Everett was 19 years old in 1977 when she rode a Greyhound bus from California to Ferdinand, Idaho, to visit her grandmother, Eva Herzog.
She arrived just in time for Herzog's news day. Herzog pulled up a black, metal TV table with X-shaped legs and tray decorated with big roses and placed her black dial telephone and a writing tablet front and center. She proceeded to call every person in
Ferdinand.
"Hello, this is Eva. Do you have any news for me?" she would say.
She called at least 50 people every week, scribbling everything they said in chicken-scratch handwriting, Everett said. Then she would carefully rewrite it and mail it in to the Cottonwood Chronicle.
Everett mentioned this trip to her husband recently, and he encouraged her to see if the Cottonwood Chronicle had any of Herzog's articles archived.
"We went to the Chronicle and talked to the editor, and I told them Eva was my grandmother," Everett said. "I have almost all of her articles, except for some of the earlier ones, and I have some years missing. My intent is that I always wanted to put them into some sort of book and give them to the family, so perhaps this will be the beginning of something."
Herzog was born in 1908 to a Uniontown farming family descended from German
immigrants who traveled to the United States in the 1860s. She was the third oldest
of 12 children. She met her husband, Rudolph Herzog, a musician who played the
fiddle, in 1929 at a local dance. They met in person on only a few occasions, but for nearly a year they exchanged many long letters before marrying and moving to a farm outside of Ferdinand. They had 11 children; the oldest was Everett's mother.
"They were good Catholics and had children every two years," said Everett, who now lives in Lewiston. "She was just a homemaker. She didn't work outside the home. She never had the opportunity because she was always having children. Even her own children used to say, 'Mom why don't you stop having babies?' She would say, 'God will provide,' and that faith was unshakable for her. She was such a devout Catholic."
After their farm failed during the Depression, Herzog's husband went to work for the railroad. He worked there until 1966 when he died as a result of injuries from a car crash. Because he died before his retirement, Herzog didn't receive her husband's pension. In 1972, to supplement her income, she began writing the column for the Cottonwood Chronicle that reported news from Ferdinand. She came to enjoy it, Everett said. She liked having something that distinguished her from every other housewife in Ferdinand.
Herzog's news didn't consist of breaking headlines or scandalous stories, but rather mundane details from the lives of people who lived in Ferdinand. She was paid a nickel per inch and she used this to her advantage, embellishing details.
"My uncle Eugene always used to say he was going to buy her a box of commas and periods for Christmas because she would just go on and on, and ramble on and on about something as mundane as a chicken salad sandwich with the crust cut off," Everett said.
Herzog's stories typically consisted of whose family was in town, which neighbors had company over for dinner or where residents traveled over the weekend.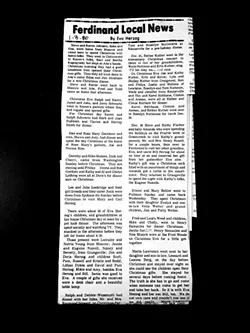 An example from a story that ran Jan. 3, 1980, read, "Steve and Karen Johnson, Zeke and Gus were home from Moscow and came here to spend Christmas with some folks. They went to Cottonwood to Karen's folks, Stan and Bertha Kopczynski, but slept at Ada's house. Christmas morning, they had a good breakfast then opened their Christmas gifts. They all went down to Ada's sister, Edna and Jim Abraham, for a late Christmas dinner."
But it wasn't as ho-hum as modern readers might think. After Herzog's retirement, the Chronicle noted that people who lived outside the area subscribed just to read her column, Everett said.
"I think it's wonderful that she found a way to make these Ferdinand people real to other people," Everett said. "I heard many comments (from family stories) about how, even though people read her articles and had no idea who those people were, it was like reading about their own family. They were reading about their own Sunday dinners and their own family reunions. It was so homey and so folksy, and just wholesome, and people really enjoyed it."
Herzog passed away in 1982, a few months after her final column for the Chronicle, but the legacy of her work remained.
"It was a kinder, gentler time," Everett said. "She made everybody that she spoke to feel important. What they did, how they spent their time, who they visited and what they had for lunch and all of those things, she made them feel important. Who doesn't love seeing their name in the paper?"
Everett said she admires her grandmother's ability to turn lemons into lemonade. She believes her articles speak for themselves as to the kind of person she was and the impact she had on others.
"She took something that was nothing and turned it into something, something that people really enjoyed and looked forward to," she said. "My grandmother had nothing most of her life. In her family, the boys got the farm and the girls got married. When she married my grandfather and they lost the farm, she raised 11 children in a two-room house. She had a hardscrabble life, and she was still the sweetest, kindest woman."