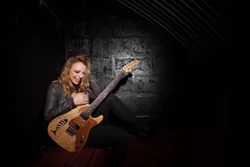 By Dominique Wald dwald@dnews.com
MOSCOW — Blues singer and songwriter Samantha Fish describes being a woman in the music industry as a "double-edged sword."
"Women are looked at as gimmicks in the music industry," Fish said. "It's not ever fair for girls, but there is value in the female perspective."
It's that wise-beyond-her-years attitude that helped Fish, 25, stay true to herself, regardless of outside influences that could have shaped her music career into something she's not.
"This is who I am – it's not something I'm willing to change," she said.
Growing up in Kansas City, Mo., Fish spent her youth listening to classic rock bands like Tom Petty and the Heartbreakers and the Rolling Stones, but she also gravitated to more contemporary artists such as Sheryl Crow and the Black Crowes. Those musical elements, she said, are present in her latest album, "Wild Heart," which was released July 10.
Fish said she has matured as an artist and a person since she first became a recording artist six years ago. The most notable change, she said, is her level of self-confidence.
"I've really matured, and it's helped me be more honest in my songwriting," Fish said. "That's what people will relate to the most, the honesty."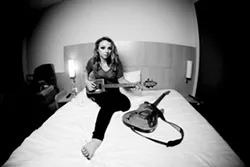 Fish plans on showcasing her new tunes Friday during her headlining performance at Rendezvous in the Park at East City Park in Moscow.
"This will be our very first show in Idaho, and I'm so excited," Fish said.
The annual music festival runs through the weekend and will bring in regional bands to perform along with other headliners.
Fish said she pulled inspiration from movies, loved ones and her personal experiences to put together "Wild Heart."
"It's been a while since I was working on that album, and it's so thrilling to mentally go back to that place when I was first recording it," Fish said.
If You Go What: Samantha Fish at Rendezvous in the Park When: Festival doors open at 4:30 p.m. Friday, performance begins at 5:30 p.m. Where: East City Park, 900 E. Third St., Moscow Cost: Passes for all festival concerts is $50 general admission. Passes for individual concerts are $25 general admission and $12.50 for youth ages 13-18. Tickets can be purchased online at www.rendezvousinthepark.com.
Rendezvous roundup Past Rendezvous in the Park lineups have included artists such as the Laura Love Band and John Hammond. Here's a 360 roundup of who to expect and when to expect them:
Friday Hilary Scott: The Pullman-native and indie folk-rock artist released her latest album, "Freight Train Love," in November. Scott has collaborated with Grammy-award winning musicians, including her bassist Bob Glaub, who has worked with Paul McCartney, Bruce Springsteen and John Fogerty. Scott also won an award for Best Local Musician from Inside Columbia Magazine in 2005 and 2006.
The Hoodoo Two: The backwoods country-funk duo is native to the region and its members have a logical explanation when it comes to the band's name: "We live in the Hoodoo Mountains and there are two of us." Earlier this month, the duo performed at the Outdoor Summer concert series at Riverstone in Coeur d'Alene.
Saturday Amanda Broadway: Hailing from Nashville, Broadway released her first record, "Me Without You," in 2011 and reached No. 8 on the iTunes Top Blues Albums chart. She is currently working on an ongoing series of recordings called "The Sanctuary Sessions," focusing on approaching each song in the studio individually, allowing the song to be recorded without limitations or restrictions.
The Fat Tones: The Spokane-based rhythm and blues trio made its musical debut in 2002. Since then, it has released six albums and performed in numerous venues, from private parties to regional festivals.
Blue Funk Jailbreak: The Moscow's blues-funk-rock-reggae band is known for its live shows at Bucer's Pub in downtown Moscow. Band members include Brian Dyre on vocals, woodwinds and keys; Tom Garrett on drums; Axel Krings on guitar; Dave Snider on bass; and Sedi Waroff on trombone.
Genius in Remission: With roots in rock 'n' roll, Moscow band Genius in Remission has participated in a handful of local events, including the Moscow Alehouse Brewfest in April. Band members include Xris Hogan on vocals; Tim Gregory on vocals, drums and guitar; Steve Farr on vocals, drums, keyboards and guitar; Ron Rasco on bass; and Brandon Farr on guitar.