Craft fairs have been peppering the weekends with holiday shopping opportunities for the past month, and the next couple of weeks are no exception. Here's a sampling of events coming up if you're still looking for that perfect gift.

The annual ASLCSC Winter Craft Fair, from 9 a.m. to 3 p.m. Dec. 3 at the P1FCU Activity Center, 602 Ninth Ave., Lewiston, is a fundraiser organized by the Associated Students of Lewis-Clark State College for graduation and other student-related expenses. The sale includes quilts, wood crafts, handmade jewelry and holiday decor. There also will be a gift wrapping booth, and school clubs will be selling food items.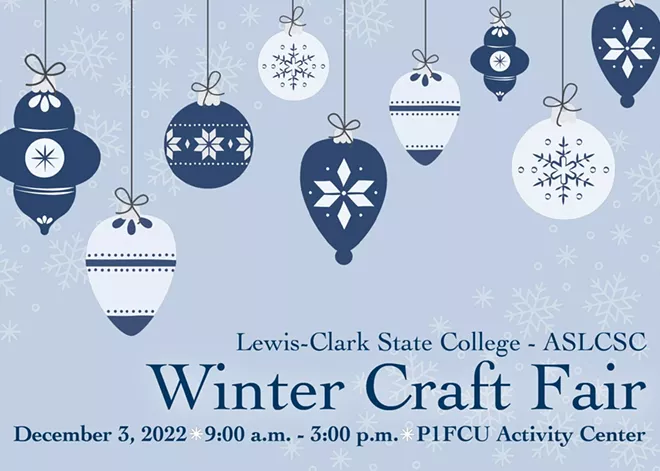 Moscow's Winter Market continues from 9 a.m. to 1 p.m. Dec. 3 and Dec. 10 at the 1912 Center, 412 E. Third St., Moscow. More than 40 artisan vendors will be on hand both days, with lunch by Wilder Catering on Dec. 3 and by Mariana's Tamales on Dec. 10. Fiddler's Ridge wreaths and Christmas trees will be available this weekend.


Another Winter Market, presented by the Pullman Arts Foundation, is from 1-4 p.m. Dec. 3 at the Lumberyard, 305 N. Grand in downtown Pullman. Shoppers can browse gift options from local makers, including paintings, custom bags and jewelry.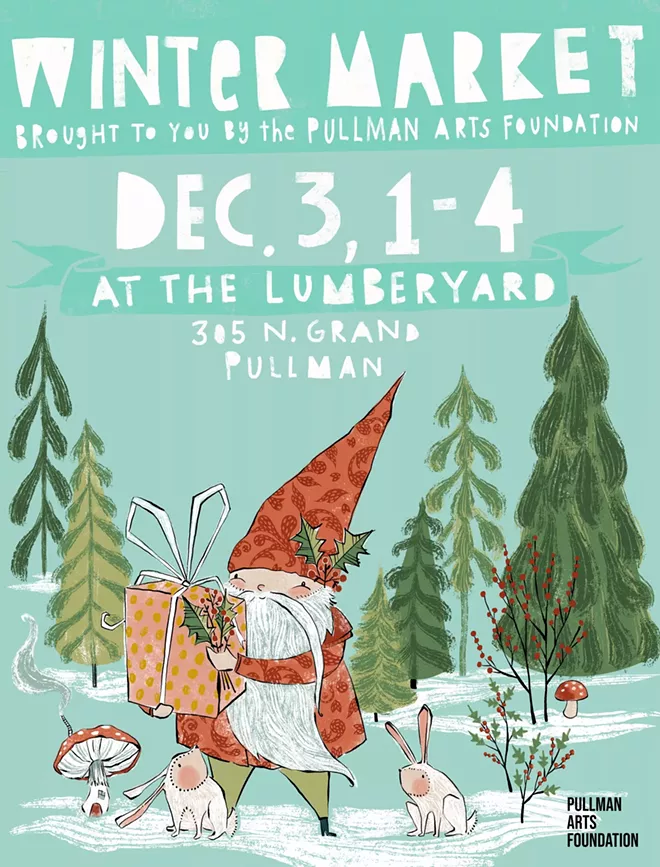 A Holiday Arts & Craft Faire, from 11 a.m. to 4 p.m. Saturday Dec. 3 at Artisans at the Dahmen Barn, 419 N. Park Way, Uniontown, includes sellers offering jewelry, pottery, photography, textiles, fine art, holiday decor, soaps, lotions and local food products.
Genesee's Christmas Bazaar, from 9 a.m. to 6 p.m. Saturday Dec. 3 at the town's fire hall, 132 E. Walnut Ave., promises crafts, books, jewelry and ornaments as well as hot chocolate and coffee, plus a kids' corner with toys to keep little ones entertained.


The LCV Saturday Market, 9 a.m. to 2 p.m. Saturdays through Dec. 17, includes vendors selling bath and body products, baked goods, candy and decor as well as a coffee truck. The market, at Woodland Adventures, 222 Thain Road, Lewiston, also offers photos with Santa.
Lunch, baked goods and crafts will be available during the Hell's Canyon Boat Club Holiday Sale, from 9 a.m. to 2 p.m. Saturday (Dec. 3), at 2550 Riverside Drive, in Clarkston (at the corner of Post Lane and Highway 129).



Local vendors will be on hand for LCV Artisan Market's Christmas Mini Market from 11 a.m. to 4 p.m. Dec. 10 at What's Poppin' Balloons, 710 Main St., Lewiston.
The Palouse Vendor Fair, from 9 a.m. to 3 p.m. Dec. 10, includes local sellers, a bake sale and a silent auction at the Palouse Community Center, 230 E. Main St., Palouse.
The Alternative Giving Market of the Palouse from 5-8 p.m. Dec. 13 at the Latah County Fairgrounds, 1021 Harold St., Moscow, lets shoppers support more than 30 nonprofit organizations. Masks are required of both vendors and shoppers, and a drive-up-and-go option will be offered in the main parking area. Those who can't be there in person can go online to agmpalouse.org/shop.
Books:
The Friends of the Lewiston City Library Book Sale, from 2-7 p.m. Dec. 1, 10 a.m. to 5 p.m. Dec. 2 and 10 a.m. to 2 p.m. Dec. 3 at the Lewiston City Library, 411 D St., Lewiston, is a fundraiser organized by the nonprofit group to support the library.


Shoppers will find discounts of 30% to 50% on books published throughout the year at the 31st annual Washington State University Press Holiday Book Fair, from 11 a.m. to 3 p.m. Dec. 7, at the Terrell Library, 140 Glenn Terrell Mall, on the Pullman campus. Authors Helen Heavirland and Keith C. Petersen will sign books at noon.