Time to get festive! This holiday season Inland 360 is doing a series of stories about area artisans who handcraft and sell work. This week we spoke with Pullman artist Brad Byers.
By JILL WILSON
for Inland 360
Brad Byers has made a career out of making the impossible, possible. He holds 73 world records in categories such as sword swallowing, yoyo tricks and chin balancing. He has earned nicknames like the Human Toolbox (for inserting various tools into his nasal cavity), the Human Cutting Board (for slicing cucumbers on his bare chest with a machete) and more colloquially, the Amazing Man.
Byers most recent venture is the art of "impossible bottles." This niche specialty has three rules:



Everything inside the bottle has to be larger than the opening.


The glass cannot be altered in any fashion.


Everything inside must remain intact and usable.
Byers holds a world record in this craft as well. He's the first person ever to fit a sealed Rubik's Cube into a jar, complete with wafer seal and folded instruction sheet.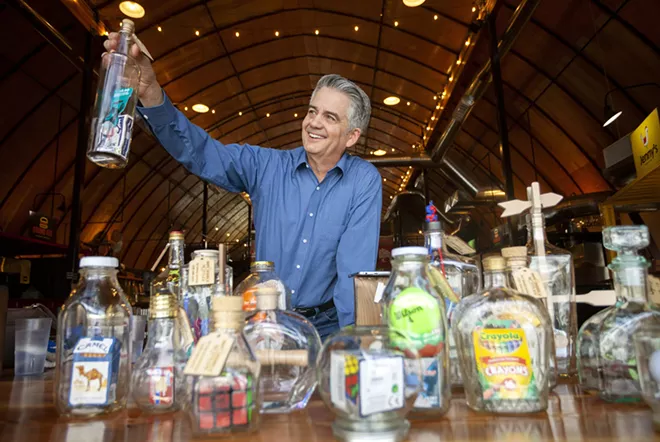 "I want to be considered a master at this, so I try to do as many different types of objects I can think of. It's not a trick. Everything inside is exactly as it appears to be. I just have unconventional techniques and ideas and principles on how to get it inside the bottle," said Byers, of Pullman.
Impossible bottles are actually a rare art form which many puzzle lovers have attempted, yet few have solved. Three of Byers' bottles are on display at George the Giant's Strange Museum of Oddities & Wonders in Bakersfield, Calif., and one of Byer's record breaking Rubik's Cube bottles recently was purchased for the world's largest mechanical puzzle collection at the Lilly Library at Indiana University.
Byers considers himself more of a bottle filler than a puzzle maker. Unlike puzzles, impossible bottles do not invite disassembly.
"The whole thing is about the wonder of how it's done. I want people wondering about this stuff after I'm dead," he said. "I've always been drawn to the unusual."
Byers doesn't rest on his list of unusual accomplishments. He continues to push against the boundaries of conventional expectations.
"That's what I find so alluring. Some things you can't learn on the internet. And what you can find, I don't do it that way. With the impossible bottles, I found the more I made, the better I got. The more ideas I got, the more complicated it got, until now I've got a couple hundred bottles. So my wife said I had to start selling."
Byers' impossible bottles run from $15 to $150, depending on size and complexity. He also makes an impossible Red Bull can, in which a golf ball is fit through the opening of a Red Bull can which is inside of an even larger Red Bull can. There is a small window cut into it so viewers can see all materials are real and intact.
Whether it's swallowing swords or filling bottles, Byers enjoys extraordinary challenges.
"I gather as much data as I can, take it one step at a time, and always maintain a positive attitude."
Byers' work can be found at:



Holiday Bazaar, 8 a.m. to 4 p.m. Dec. 21 at Clearwater River Casino, 17500 Nez Perce Rd., Lewiston.


On bradbyers.com


Follow on facebook.com/brad.byers.10