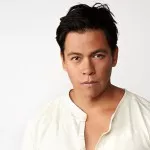 Chaske Spencer's latest film, "Woman Walks Ahead," is set to be released Tuesday on DVD.
"Woman Walks Ahead" tells the story of Caroline Weldon (Jessica Chastain), a portrait painter who travels from New York to Dakota to paint Sitting Bull (Michael Greyeyes). Spencer, a Clearwater Valley High School graduate, plays the role of Chaska, a local lawman in the movie.
The film is available to buy or rent on DVD and Blu Ray as well as on iTunes, Google Play and Vudu.
Spencer's most famous role was as Sam Uley in the "Twilight" series. He has also appeared in television shows such as "Banshee," "Longmire" and "Sneaky Pete." According to his IMDb page, his next projects are "Scalped" and "Indian Summer" with no scheduled release dates.
https://www.youtube.com/watch?v=qHR0AEDMg0M