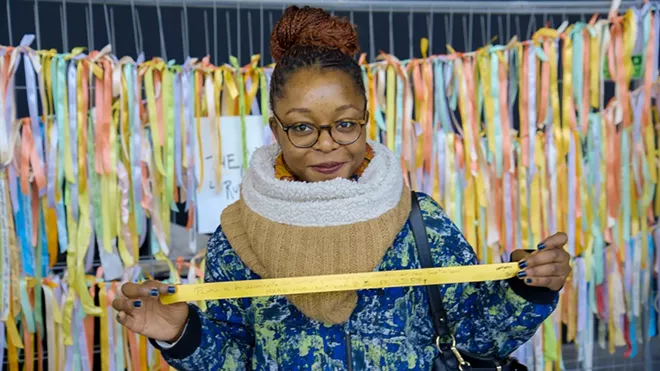 In honor of Earth Day, the Citizens' Climate Lobby of the Palouse will provide an opportunity for locals concerned about the environment to answer one question: What do you love and hope to never lose to climate change?

When the nonprofit group realized there wasn't going to be a public celebration of Earth Day, members decided to create an event, said Mary DuPree, of Moscow, leader of the group's Idaho side. One person discovered Climate Ribbons, a worldwide movement to get people to think about the effects of climate change by writing the answer to that question on a ribbon.
"It will be a beautiful way of celebrating the Earth, as well as sharing our concern for the Earth," she said. "The major focus is to allow people to think about what climate change means to them. That's why we're asking them to think about what to write on those ribbons."
The answers will be displayed from 3 to 7 p.m. Saturday at Friendship Square in Moscow. Local organizations also will have information booths.
The lobby group works to share concerns about climate change with citizens as well as lawmakers, both regionally and nationally.
"So we do it a number of ways; we get individual people energized to feel optimistic they can do something about climate change, rather than feeling helpless," she said.
Efforts include writing letters to the editor, editorial and opinion pieces, as well as speaking on radio shows. The group also organizes a monthly call-in campaign, Call Congress for Climate, (cclcalls.org) to local congressmen and congresswomen to ask for climate change support.
"All of those are meant to help broaden the message so more and more people know they can do something," DuPree said.
As the title of the campaign suggests, many of their efforts involve directly lobbying lawmakers. They try to provide lawmakers with the information they need to make decisions on climate change. Movements toward helping the environment will also help the economy, and most Americans, by creating innovation, she said.
One of the group's focuses is to lobby Congress to establish a carbon tax. Carbon taxes are the most fair option because those who create the emissions pay for them, she said.
She compared it to paying for people to come pick up your garbage in a city.
"Well if you're polluting the air, shouldn't you pay for that?"
The carbon tax also is less complicated than creating a system of complex regulations.
"(It allows) the market economy to work the way it should, and we hope that's a compelling message for our members of Congress, no matter what party they come from," she said.
Besides contacting government leaders, she said people can take closer-to-home approaches.
"One of the most important is to talk about climate change with your family and neighbors," she said.
While some effects of climate change are more visible — like wildfires — others are hidden, like the cost of insurance and how the U.S. is paying for disasters linked to climate change.
These conversations can prompt a response from people and potentially lead them to believe congressional representatives should take action, she said.
The local chapter of the group was started in 2013 by Rob Briggs, of Pullman. DuPree became involved about the same time, after retiring from the University of Idaho where she taught music.
"When I retired, I wanted to use the time to devote to something I really cared about."
Despite the name "Palouse," the group's efforts extend to include all of Latah County, Whitman County and the Lewiston-Clarkston Valley.
"We needed individual action, but it was also important for the government to establish policies to slow the spread of climate change," she said. "The idea was that we need to lobby from the grassroots up."



IF YOU GO
WHAT: Climate Ribbons.
WHEN: 3 to 7 p.m. Saturday, April 24.
WHERE: Friendship Square, Moscow.
OF NOTE: Masks and social distancing are required.
MORE INFORMATION: theclimateribbon.org. www.cclpalouse.org. cclcalls.org.