Pam Arborgreen's glass work might look like stained glass, but it's not.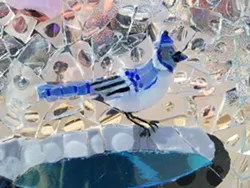 "I call it 'building a collage,' " Arborgreen said.
Arborgreen creates images by layering pieces of cut glass. Unlike stained glass, which has "an exact flatness" to it, she said, her glass images sparkle as the sunlight hits layers of color from different angles.
Arborgreen lives in Pullman and works with kids with special needs at Garfield Elementary School. She began selling her glass pieces seven years ago at the Moscow Farmers Market. She'll be teaching her technique at an upcoming workshop, and she shared this about her work:
The process: Starting with an old window frame, Arborgreen layers pieces of glass on the intact panes, using as many as three layers to create the look she wants. The glass is adhered with clear acrylic glue and looks like fused glass, though it isn't -- fused glass would require high temperatures that would burn the wooden window frames. The final piece is covered with a transparent film that's easy to dust and minimizes injury from exposed glass edges. Each window takes several days to complete.
Artistic roots: Arborgreen gives much credit to the creative genes passed on from her mother, who led by example in being "creative and thrifty" and "making something different from what it was designed to be." That inclination, combined with a community enrichment class on creating collage with pieces of paper, resulted in her current artistic technique.
First piece: The first window Arborgreen created was for an outhouse. She was building one at a cabin site and didn't like the idea of it being so dark, or the idea of people being able to see in. She began experimenting and ended up creating four window scenes, each with water, sky and land elements. The work resulted in what must be one of the region's more attractive outhouses. Arborgreen discovered that she liked making them. "So I kept going." The next year everyone she knew got one for Christmas. The year after that, she started selling them at Winter Market in Moscow, and the year following she began selling at the Moscow Farmer's Market.
Materials:
Nearly everything seen in Arborgreen's work is repurposed, from shower doors and cake dishes, to liquor bottles and microwave plates. Much of this comes from Moscow Recycling. She has to buy more unusual colors like purples, oranges and reds. Window panes often come from Norm's Glass in Moscow or the salvage yard. People also offer her old windows and other discarded glass.
Prepping materials: By now, Arborgreen knows how to strike a glass bottle to get the largest possible flat plane to work with. She uses a glass nipper to shape her pieces into arches, curves, flower petals and more.
On display: Arborgreen says the best way to view her work is with light coming through it -- "It's interesting how it changes as the light moves across the sky." She recommends hanging them in an existing window using a couple of screws. Shadowboxes can sit on a sill, though some people prefer hanging them on a white wall.
Sales: Arborgreen creates work through the year to sell at the Moscow Farmers Market and Winter Market. She also does custom orders and can be contacted at: artsyoldwindows@gmail.com
IF YOU GO:
WHAT: Glass Workshop with Pam Arborgreen
WHEN: 8:30 a.m. to 11:30 a.m. March 10
WHERE: Wild at Art, 118 E. Third St., Moscow
COST: $45; pre-register at moscowwildatart.com