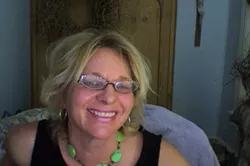 Genesee artist Ellen Vieth says there's not enough art in the world.
"Especially during an election year," she said. "We need more beauty."
Vieth created space for more by converting a building behind her Genesee home into a Pop-Up art gallery, a place that exhibits work by area artists in occasional weekend shows throughout the year.
Vieth's third show, "West," takes place Saturday and Sunday and features work by 15 new and accomplished artists from Lewiston, Clarkston, Moscow and Pullman at the Little Pink House Gallery.
Contemporary art is a focus of the gallery, said Vieth, a painter and former curator for the Lewis-Clark State College Center for Arts & History.
"There're not enough places to show contemporary art. There's a lot of good work happening out there and nobody's getting a chance to see it," said Vieth, who studied at the Art Institute of Chicago and the Kansas City Art Institute.
"West" is not a traditional Western art show. Vieth invited artists to explore the West as a metaphor. The show features a diverse range of paintings, photographs, antiques and indoor and outdoor sculptures.
The pop-up experience is different from other gallery spaces, Vieth said. The fact it's a two-day artists' reception encourages attendance and, she thinks, surprises people with an attention to detail.
"The arts are such a surprising metaphor for who we are. Often the shows include an homage to the past with a few antiques or odd objects that I personally find some thread of truth or interest in," she said.
Work is available for purchase the days of the show. The gallery is also open by appointment.
Future shows will explore topics that could be controversial or focus on a specific genre, she said.
"I don't always know which way the wind will blow as far as the theme. That makes the idea of pop-up even more of a gift to both myself and others, hopefully building on some excitement or, more often than not, a sort of Joi de vivre," Vieth said.
People can follow the gallery on Facebook at Little Pink House Gallery.
If You Go
What: "West," works by 15 artists
When: 10 a.m. to 5 p.m. Saturday and Sunday, Nov. 5 and 6
Where: Little Pink House Gallery, behind the pink house at 157 N. Elm St., Genesee
Of Note: Participating artists include Ann Christenson, David Herbold, Aaron Johnson, Ellen Vieth, Len Zeoli, Ray Esparsen, Jill Hosmer, Liam Esparsen, Troy Merrill, George Wray, Marilyn Lysohir, Ross Coates, Linda Schroeder Golding, Sean Cassidy, Ludmilla Parez and Kimberly Vincent.