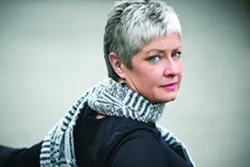 After writing four books set in Idaho, author Kim Barnes settled on Saudi Arabia as the setting for her next novel.
While the settings may seem far removed, Barnes came to realize that her fundamentalist upbringing in the logging camps of northern Idaho was not unlike the rule of shariah law in the birthplace of Islam.
Barnes' critically acclaimed novel "In the Kingdom of Men," out this month in paperback, follows Gin McPhee and her roughneck husband to 1960s Saudi Arabia, where he takes a job with the oil company Aramco. Gin trades a life of poverty for one of wealth. Aramco families live in posh gated communities with pools and houseboys.
Problems arise when she tests the boundaries of her freedom. Inside the communities, women can do as they please. Outside the gates, there are strict codes about when, where, how and with whom they can be seen.
"In the Kingdom of Men" was named a Best Book of 2012 by the San Francisco Chronicle and The Seattle Times. Barnes will speak about the book, author Wallace Stegner and the connections between them Friday at the 31st annual Lewis-Clark State College Wallace Stegner Lecture. Barnes was sure she would travel to Saudi Arabia to do the needed research for the book.
"I thought I would. There was no doubt in my mind," says Barnes, who turns 55 in May. "It's one thing to write about the logging camps you were raised in. So much of my writing focuses on landscape, on place. I thought I would immerse myself, which tells you how naive I was."
The U.S. advises Americans to carefully weigh the risks of traveling to Saudi Arabia because of terrorism. In addition, women traveling alone are not allowed to enter the country unless they will be met at the airport by a husband, a sponsor or male relative. When she realized the trip wasn't going to happen, bestselling author Selden Edwards convinced her it was for the best.
"He said, 'Kim, don't go. That time and place are gone,' " Barnes says, remembering their conversation at a writer's conference. Edwards, author of "The Little Book: A Novel," set in 1897 Vienna, advised her to know the place as her characters did.
"I did rely on the eyes and ears of the people who were there," says Barnes, who interviewed families in the tightly knit Aramco community, read memoirs and, in some cases, was given access to letters and diaries.
The voice of Gin first came to Barnes as she sat at the home of her aunt, who lived in Saudi Arabia in the 1960s when her husband worked in the oil fields. Like Barnes, Gin comes from a fundamentalist background.
"One thing I hoped to capture — I think it's easy for us to see the Arab culture in history as so different from our own. In fact, it sure wasn't a lot different from mine. I was raised in a fundamentalist church that taught that women, because they were the daughters of Eve, must be submissive. We must cover and not cut our hair because it's our veil of modesty. ... If you watch 'Mad Men' you come to realize that even in my generation, when I was a young woman, women had so little power of any kind. Why we see it as so foreign, it's beyond me. We get punished all the time, women do, for our sexual indiscretions, for not covering. It's not the same, but there's so much that is still very much there."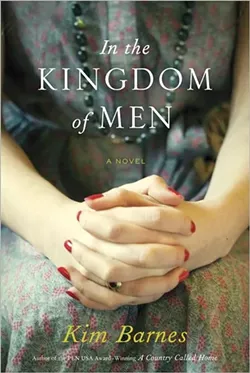 Attitudes reach into the world of publishing, she says. Publishers, editors and agents are reluctant to take on books where a woman makes a mistake and gets punished.
Pulitzer Prize-winning author Wallace Stegner, sometimes called the "Dean of Western Writers," was the author of the definitive, but controversial, history of Aramco, "Discovery!". Barnes met Stegner in 1982 when he came to LCSC to give the first Stegner lecture. She was a student at the college and says she was "thunderstruck to be in his presence."
"It was strange to me to have these two parts of my life coming together," says Barnes, who teaches in the Master of Fine Arts in creative writing program at the University of Idaho.
Barnes says her next novel, set again in the West, will answer a question she gets asked all over the world: "How did you get from the logging camps of Idaho to where you are now?" She tries hard not to be offended. "There's a perception that people from rural towns cannot and do not live a life of the mind," Barnes says. "It's like I've been raised by wolves and suddenly emerged from the wilderness miraculously gifted with speech."
The novel, about a father who has made a terrible mistake and a daughter who cannot forgive him, will be her attempt to respond.
if you go WHAT: Kim Barnes presents the 31st annual Lewis-Clark State College Wallace Stegner Lecture WHEN: 7 p.m. Friday WHERE: Lewis-Clark State College Center for Arts & History, 415 Main St., Lewiston COST: Free