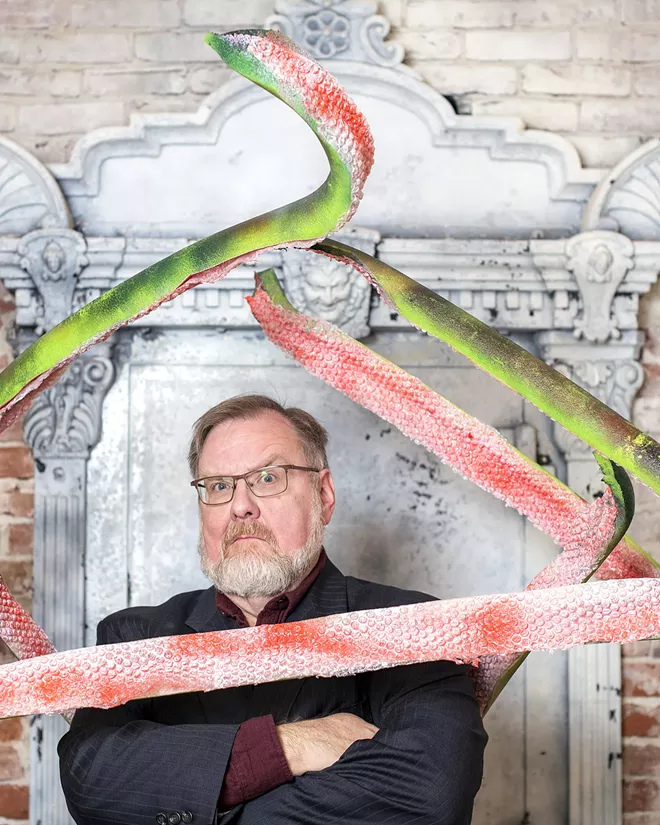 By ANNABELLE ADY
for Inland 360
October 30, 1938, Martians invade Earth -- or at least that is what thousands of people listening to the radio heard when the play adaption of "The War of the Worlds," written by Orson Welles, was broadcast across the nation.
Whether or not the public listening to the radio show panicked at the idea of an attack by "unstoppable and ferocious" Martians is now a matter of debate among media scholars, but nevertheless, the play has remained a classic piece of science fiction.
"The War of the Worlds" is a story of a Martian invasion as experienced by an unidentified male narrator and his brother. The Lewiston Civic Theatre will present the staged radio play opening tonight at the Lewis-Clark State College Center for Arts & History. Director Patrick Broemeling, has been involved in theater for 35 years, working on productions throughout the Northwest. He is an original cast member of the Pulitzer Prize winning plays "The Kentucky Cycle." Inland360 caught up with him in an email interview.
Name: Patrick Broemeling
Home: Clarkston
Vocation: Low-budget imagineer
Nickname: Deputy Mayor of Halloween Town
Why did you want to be involved in this production?
I've loved the 1938 radio broadcast since I borrowed the LP recording from the public library in grade school. The 1953 movie was one of my favorites growing up. We've borrowed moments from the film and added them to our script. Also, other elements from other aspects of the WoW saga have also been added to our show as "seasoning."
What's the most challenging part of putting together a radio show?
We are billing this production as an "immersive re-creation" of the radio play. We are using the original script by Howard Koch. He also wrote "Casablanca" (not too shabby!). In order to amp up the 'Halloween-ness,' we are staging some scenes off of the stage. Sound and light effects will be coming from behind or beside the audience. So, although this is a play, it will have the spirit of a haunted house or a carnival ride.
What's your favorite sound effect in the show?
I'm really excited that we've been able to add a sound effect that was recorded on the surface of the planet Mars. NASA recently released a recording made by their InSight Mars Lander of a quake on Mars -- a Marsquake! We weren't gonna NOT use that!
Do you believe in aliens? why or why not?
Do I believe in aliens? The universe is VERY big. To assume that humans are the ONLY intelligent life would be the height of egotism. I stole that quote from a much smarter person, but I don't remember who. (Apologies to smart people everywhere.)
If aliens were coming to take over the planet, what would you do?
If aliens ever land on Earth, I will be standing in my front yard, holding a boombox over my head, playing David Bowie. And I will ask them to dance.
IF YOU GO
WHAT: "War of the Worlds"
WHEN: 7:30 p.m. Thursday, Friday, Saturday, next Thursday and Nov. 1- 2; and 2 p.m. Sunday and Nov. 3.
WHERE: Lewis-Clark State College Center for Arts & History, 515 Main St., Lewiston.
COST: $15 adult, $10 child, student, seniors and veterans. Oct. 31 is a "Pay What You Will" evening with a costume contest and prizes. Tickets available at https://lctheatre.org.