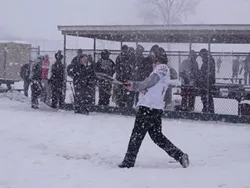 By MICHELLE SCHMIDT INLAND360.COM
If clean and proper is your thing, Orofino is not the place for you this weekend. The city's first Maniac Mudd Ball Tournament begins at 8 a.m. Saturday in City Park.
Mudd ball is just what it sounds like: a ballgame in the mud. In this case, it's a mashup between softball and dodgeball. Unlike softball, where a little precipitation cancels a game, mudd ball finds inclement weather to be just part of the fun.
"There might be snow, rain, mud," said Danelle Pederson, a main event organizer. "We play no matter what the weather does."
Apparel for the game has an unconventional spin as well. Instead of uniforms or even matching T-shirts, players are encouraged to come in costume. Without an official event theme, teams can pick their own or leave it up to the creativity of individual players.
But most players, whether as princesses or wild gorillas, are expected to be wearing a similar shade of brown by the end of the day.
"It's hilarious," said Pederson, "you have people falling down, wearing funny costumes." The mud, of course, is a big part of the draw.
"If you're a true redneck, you like muddy," said Emily Simmons with a laugh.
Simmons is organizing the event and describes it as one of the few wintertime options for fun in the community. The ballgame uses winter's chill against itself, drawing people together for activity and laughter.
But it's more than just community fun. Proceeds from the event, collected through player fees, go to benefit two organizations: ICARE and Christmas 911. ICARE helps those undergoing treatment for cancer or other serious illness with expenses like travel and lodging.
"It's touched a lot of people we know," said Mayor Ryan Smathers, another event organizer. "When all your money is going toward treatment, that $500 makes a huge difference."
Christmas 911, now in its fourth year, was developed by the Orofino Police Department to assist local families facing hardship during the holidays. "I had the privilege of going with officers to deliver the gifts and food," said Smathers. "They were happy households, just ones facing real challenges."
Seeing empty refrigerators filled and lonely trees joined by gifts makes a lasting image, not only for the families but for the helpers as well.
The Mudd Ball event idea came from the Blizzard Ball Tournament held in Missoula every January, which regularly sees teams from Orofino. Pederson has been among them for at least four years and saw the game as a natural fit for her hometown. While she knew they couldn't depend on snow, Pederson went with what she knew the Orofino climate could deliver: mud.
The game is similar to softball, except it uses a 6-inch dodgeball. With its emphasis on action, and therefore hitting, each batter comes to the plate with a two ball, one strike count. After all, there is a correlation between the running a player does and the amount of mud that is likely to appear on his or her person.
"It's a lot more kicked back than softball," said Smathers. "The rules are very lax."
But there will be rules and umpires present to enforce them, along with announcers who will keep teams and spectators entertained.
Games begin on the hour, with each game lasting 55 minutes. The number of games depends on the number of teams involved. Tournament winners receive a T-shirt — a clean one — and the bragging rights that come with it.
Several teams have already been formed, but anyone interested in playing can contact Pederson by Friday. Teams are composed of at least five men and five women, each over 18. The teams must provide player fees, a new toy and five cans of food that will go toward the Christmas 911 program. At least one representative needs to be present Friday night to sign in with payment and waivers, but the rest of the team doesn't need to show up until Saturday morning, ready for fun in the mud.
if you go What: Maniac Mudd Ball Tournament When: Saturday at 8 a.m. Where: Orofino City Park in Orofino Admission: Free for spectators, $10 for players. To form a team or sign up for one, call Danelle Pederson at (208) 827-0736 by Friday.