Family is at the core of the Lewiston Civic Theatre's "Elf the Musical," opening Dec. 1 at the former Lewiston High School on Normal Hill.


Fans of the movie starring Will Ferrell will recognize the same story in this stage version, directed by Larry Goodwin: Buddy (Alex Everett), who was raised with Santa's elves at the North Pole, ventures to New York City to look for his father, and poignant hilarity ensues.


"I just can't say enough good things about Alex," musical director Amy Baker Stout said. "He has appeared in many of our musicals, but this is definitely his first starring role."


Another standout feature of the production is the family element, Stout said.


Several families have multiple members acting in and otherwise working on the play. Cindy Zeliff, for example, not only is in the ensemble with her children, Rayland and Jayce, but she's sewing costumes as well.


The Stauffers, Cody, Lisa, Aaron (10) and Bunnie (14), nearly made it another all-family endeavor after appearing together in the theater's production of "Bye Bye Birdie," but marching band commitments pulled Bunnie away from "Elf."


Initially, only Cody planned to participate, but Aaron tagged along with him to the audition and ended up an elf in the ensemble; and Lisa, after declining more than once, "caved in" and became part of the ensemble as well.


And so the juggling act began, with Lisa balancing rehearsals — for what turned out to be multiple roles — with her job as manager of Clarkston's Walgreens and karate training (she recently won awards at a martial arts competition as an adult beginner). Cody, who serves as pastor at Clarkston United Methodist Church and First United Methodist Church in Lewiston, took on the role of Walter, the father of Buddy the elf, while navigating the challenges of a persistent case of vertigo that leaves him constantly fighting the sensation of falling when he walks.


The biggest challenge for the Stauffers, though, was getting to rehearsal on time.



"We gotta wait for someone to get (home) from work, someone to find their socks, dinner getting put together, because we bring it here and eat it here as a family," Cody said.


"It's not just that I can't find it," Aaron interjected about the socks. "They have to feel right."


"The latest we've been is, like, seven minutes," Lisa said. "So that's pretty good, for us."


The patience and understanding required for a real-life family to navigate the ups and downs of participating in community theater paints a stark contrast to Cody's role in the play.


"I'm the jerk dad," he said.


"It's so funny, too, because he's like a jerk the whole time until the end, and I'm like, 'This is acting for Cody, 'cause he's anything but a jerk,' " Lisa said.


Aaron, a fifth grader at Parkway Elementary in Clarkston whose civic theater debut was in the ensemble for "Bye Bye Birdie," said this ensemble involves more dancing and more scenes.


Their other acting experience (Aaron uses they/them pronouns) came through a school play.


"I was in 'Character Matters,' it was called," they said. "I was a wicked witch, but I was a nice wicked witch."


The Stauffers agreed audience members likely will be talking about one "Elf" moment in particular after the curtain falls.


"There's a scene with a bunch of fake Santas commiserating about the holiday," Cody said. "And that's a big number."


Community members sponsored beards for the many jolly old elves, covering the cost of the extra costuming required for the scene.


"It was cool, and they did it, they covered 'em all, in like two hours," Cody said.


"And had money left over," Lisa said. "It was very nice."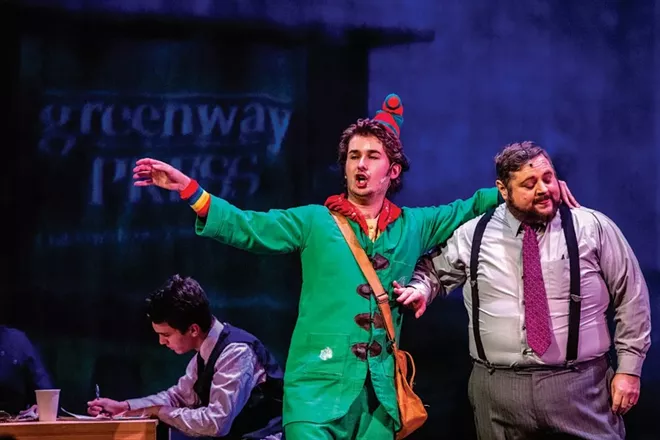 While the "Elf" story might be familiar to many, the Civic Theatre is throwing a bit of a curveball for its patrons who are used to musicals spanning three weekends, opening on a Friday night.


"The show is only two weekends, and it's a Thursday night start, which isn't usually what we do," Executive Director Nancy McIntosh said.


With 900 tickets already sold by Monday, Stout said she doesn't recommend waiting until the last minute.


"I would encourage people to buy tickets in advance," she said.


It's not a play fans of theater and Christmas will want to miss.


"It's a really cute show, and they're working really hard," McIntosh said.


Aaron Stauffer took it a step further.


"It's gonna be good," they said. "There's no way this is not going to be the best play in the world."


Stone (she/her) can be reached at inland360.com.

———


If You Go


"Elf the Musical"


When: 7 p.m. Dec. 1-3 and Dec. 8-10; 2 p.m. Dec. 4 and Dec. 11.


Where: Normal Hill Campus auditorium, 1114 Ninth Ave. Lewiston.


Cost: $12-$20.


Tickets: lctheatre.org, (208) 746-3401.


Of note: The play runs two weekends, not the usual three, and opens on a Thursday. Tickets can be purchased at the door if available, but organizers recommend buying in advance.