In May 2016, Steven Nelson was lured to Gotts Point, a boat launch at a remote lake on the edge of Nampa where he was robbed, beaten, stripped naked and left for dead.
Nelson, an openly gay man, had answered an online ad promising a sexual encounter. The ad was part of a scheme by four men. One of them yelled homophobic slurs while kicking Nelson more than 30 times with steel-toed boots.
When they left, Nelson wasn't dead. He walked naked and without shoes to a house with a light on half a mile away. He described his attackers to police before dying several hours later at a hospital.
Denise Bennett found out about her friend's death on Facebook. Someone shared a news story and wrote, "I hope this isn't our Steven Nelson."
It was, and Bennett's documentary film, "Gotts Point," shares his story. His death also inspired her to collect the stories of other LGBTQ Idahoans for posterity. She'll share both at a screening Thursday, Aug. 23 at the Kenworthy Performing Arts Centre in Moscow.
"Steve's murder had to be prosecuted federally as a hate crime because Idaho does not have protection in their Human Rights Act for people based on gender identity or sexual orientation," said Bennett, an associate professor at the University of Idaho School of Journalism and Mass Media.
Bennett and Nelson met in 2011, when he was a student in one of her classes. He was in his late 40s. They were about the same age and became friends. The last time she saw him was at a New Year's Eve bonfire in Moscow at the end of 2015. He'd just accepted a job at Boise State University.
"I was just compelled to tell his story because he was my friend. People should know what a great guy he was. He would do anything for anybody. He was really super generous and fun to be around. I was just disgusted by it," she said.
The film also explores the movement to add human rights protections in Idaho for LGBTQ people. Idaho doesn't have a statewide law that expressly prohibits discrimination based on sexual orientation or gender identity when it comes to private or public employment, housing or public accommodations.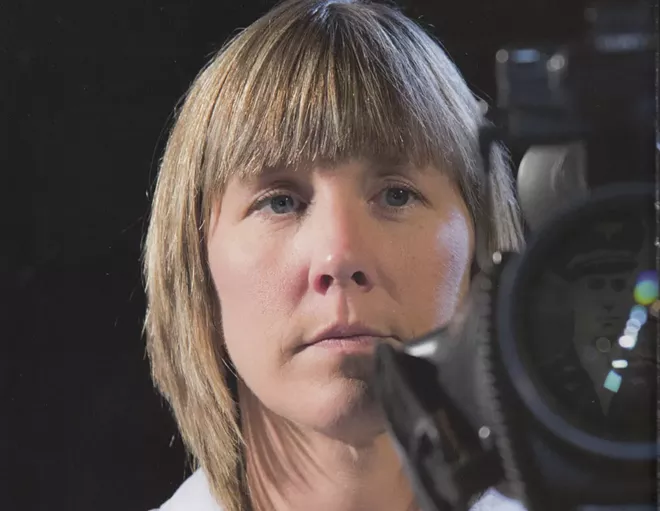 "Something has to give politically, culturally, in this state that we let people be who they are and protect them. It's like Matthew Shepard all over again," Bennett said, referring to the 1998 murder of a Wyoming college student.
While working on the film, Bennett began collecting the stories of other LGBTQ Idahoans. She aims to collect digital oral histories from at least one person representing each of Idaho's 44 counties. The project is called "Idaho Queered" and is a collaboration between the UI Library; UI College of Letters, Arts and Social Sciences; the Latah County Historical Society; and LGBTQ members from around the state. The interviews are being transcribed, and the collection will be made available to the public, Bennett said.
She continues to collect the oral histories. People have the option to tell their stories on camera, only through audio or by written statement. She said she has only received two written statements. One was from a man from Riggins who didn't want anyone to see his face or hear his voice.
"It's sad. Many of them have similar terrible experiences. A lot of this is from discrimination or not being accepted by their family. Not all of them. It's scary to come out. It should not be. It's 2018."
People can contact Bennett at deniseb@uidaho.edu. People can donate to the "Idaho Queered" project through the University of Idaho Foundation at (208) 885-4000 or uidaho.edu/giving by noting "Idaho's LGBTQ Community Oral History Project in the designation.
IF YOU GO
WHAT: "Gotts Point"
WHEN: 7 p.m. Thursday, Aug. 23
WHERE: Kenworthy Performing Arts Centre, 508 S. Main St., Moscow
COST: Admission is by donation. Proceeds will benefit "Idaho Queered," an oral history and digital archive of Idaho's LGBTQ community.
OF NOTE: Doors open at 6:30 p.m. for a pre-screening social.