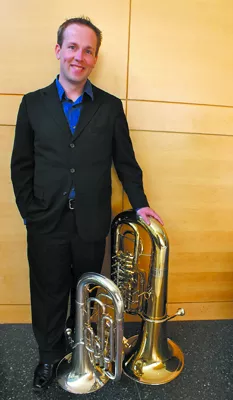 By MICHAEL-SHAWN DUGAR
For the ninth consecutive year, music professors at Washington State University will put on display their musical talents, as well as their teaching proficiencies.
The WSU Faculty Artist Series, a year-long string of wide-ranging music recitals at Bryan Hall to raise money for the School of Music scholarship fund, begins at 8 tonight.
This year's series begins with a tuba and euphonium concert led by Chris Dickey, clinical associate professor and longtime wind instrumentalist. Dickey's recital will include music dated as early as the 1800s to as recent as 2008. He will be accompanied by Rajung Yang, a piano faculty member at the University of Idaho.
Dickey, entering his fourth year at WSU, said he's been preparing for this performance for about seven months and is excited, not only to take the stage, but to do so alongside another talented musician.
"I think audiences like hearing tuba with an instrument like the piano. It's nice to have another strong musician on the stage. It helps the music-making become more enjoyable for me, personally," Dickey said
The series will feature 16 concerts throughout the school year, the second year with that number of performances after scheduling just eight recitals in previous years. The increase in number was because of a growth in attendance and overall popularity, said Sandra Albers, School of Music facilities coordinator.
Albers said once the school doubled the amount of performances, the amount of money followed suit, as they raised nearly $3,000, all of which is applied toward student scholarships.
The concerts used to be free, but Greg Yasinitsky, director of the School of Music, figured charging the community to see quality performances that ultimately benefit the students is a win for all parties involved.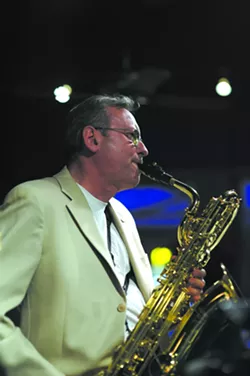 "We've had really good success with this over the last couple years of being able to raise supplemental funds that can be used to help support our students, and I think we have some of the best students any place," Yasinitsky said. "We have a great student body and they deserve that kind of support, so if there's a way we can help them with their school expenses, I think it's great."
The series began in 2006 as a fundraiser and an opportunity for students to see their professors "walk the walk" to go along with the classroom talk. Because they will eventually have to perform as well, watching their professors instills confidence in the students, Albers said.
"It also steps things up a little bit, so it's kind of a fun and exciting series. Often the concerts are on Friday nights, so it's a nice way to celebrate the end of the week – you can finish your work and then go and listen to a great concert before the evening is over," Albers said. "We think that's just the best way to finish your work week."
But what may be the most important function of the Faculty Artist Series is how it – along with the entire music school – serves as the primary source of cultural life in Pullman. It's no secret how few venues offer big band performances, operas or international music on a regular basis, and this series is part of an effort to fulfill the community's artistic desires.
Yasinitsky said he believes WSU has some of the greatest musicians in the world, many considered national experts in their particular field.
"There's such a wide range of concerts that are going to be offered and I'm really interested in all of them," he said. "There's a brass concert that's going to be great, a woodwind concert with different configurations, piano music, vocal music, chamber music – it's all exciting."
Other concerts this month include: "A Night of Ballads and Blues," a solo recital by jazz pianist Brian Ward on Sept. 16 in Kimbrough Concert Hall; "Love: A Matter of Trust," which features a variety of art song literature by Julie Anne Wieck with Gerald Berthiaume on piano Sept. 23 in Bryan Hall; and "Trumpet and Organ: Pictures at an Exhibition," with Jill Schneider (organ) and David Turnbull (trumpet) closing the month out Sept. 30 in Bryan Hall.
IF YOU GO
What: WSU Faculty Artist Series: Recital of Tuba Euphonium by Chris Dickey
Where: Bryan Hall Theater, Washington State University
When: 8 p.m. tonight
Cost: General admission: $10, senior citizens, 60+: $5, non-WSU students: $5, WSU students with ID: free
Website: For a full schedule of all performances in the series, libarts.wsu.edu/music/artistseries