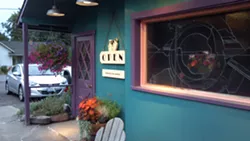 DAYTON — With $165 bottles of wine and a dining room the size of a 1970s-era living room, complete with fake wood paneling, Patit Creek Restaurant in Dayton is where roadside cafe meets haute cuisine for lunch or dinner.
Once listed in "Northwest Best Places" as the only 4-Star French restaurant east of the Cascades, its reputation for fine food seems incongruent with the humble green cottage beside the highway but reservations are a must.
Inside, black and white photos of silver screen stars like Betty Davis decorate the walls. Art deco-style stained glass shields diners from views of passing traffic. Fresh daisies poke out of antique green bottles from the Pullman Cougar Beverage Company.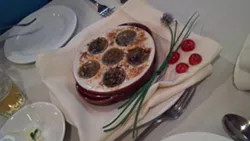 Dinner appetizers include Fresh Chevre Stuffed Dates wrapped in bacon ($10) and Monteillet Fromagerie Cardabelle in Filo Pastry ($10). The farmstead artisan cheeses come from a nearby Dayton fromagerie. What better way to celebrate a French meal than with a starter of snails? Escargots Bourguignon ($12), arrive cooked in garlic shallot butter. A course of pinto bean soup is flavored with Spanish veal sausage and kale.
Among the entrees this particular August night are a Roast Rack of Lamb in fresh thyme sauce ($40); Filet Mignon Pomre Vert with green peppercorns, cognac and cream ($40); Eggplant Parmesan ($22) and Sauteed Jumbo Prawns with olive oil, butter, shallots, tequila and preserved lemon ($30). The Medallions of Portabella Mushroom Saltimbocca dressed in a creamy fresh sage sauce ($27) are as satisfying as steak. It's the kind of meal that makes you rethink how you eat.
Patit Creek: 725 E. Dayton Ave., (509) 382-2625