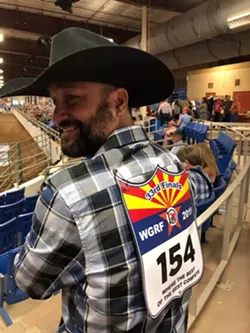 "Gay Rodeo," a free, one-night-only exhibition presented by the University of Idaho, is set for 6:30 p.m. Friday, Jan. 20, at Moscow Contemporary, 414 S. Main St., Moscow.


A presentation by gay rodeo participant and scholar Nicholas Villanueva will examine the sport's historical and current role, according to a UI news release.


The event, organized by UI's Department of Theatre Arts, Department of History and LGBTQA Office, will be hosted by professors Rebecca Scofield and Robert Caisley, who collaborated to write the play "That Damn Horse: Stories of the Gay Rodeo."


Caisley, the school's theater arts chairperson, said artists and educators have a moral obligation to address issues of intolerance and that this historical exhibition fills a gap in the story of the West, according to the news release.


"We are excited to bring Nicholas and his knowledge of the gay rodeo to Moscow," he said. "His work, and Dr. Scofield's work, represent important examinations of an underappreciated and misunderstood narrative of the American West."


Scofield, history department chairperson, called Villanueva's work "an exciting intersection of historical research and experience in the arena."