Lewis-Clark State College will kick off their annual summer concert series with local band Hard Travelin' at noon June 5.
The free concerts will feature five bands all the way until Aug. 7.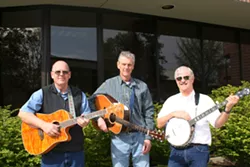 The summer concert series, which is open and free to the public, allows people to bring blankets or chairs and sit out during their lunch break. Sodexo Food Services will offer a hamburger, salad, chips and a drink for $6.
Bill Johnson, of Hard Travelin', has performed at the summer concert series in the past and calls it "pleasantly informal."
"We are folk music with an edge," Johnson, from Lewiston, said. "We try to be up to date and current, even though some of our music goes back to the '50s and '60s. We play folk, ballads, pop, bluegrass and country."
Johnson, Dale Valdigham of Asotin and Bob Hopkins of Clarkston make up the band.
"Musically, the most fun part of our music is when we hit a chord right," Johnson said. "There's something magical about harmony."
Other bands and performers for the concert series include Spiral Highway, Paul Grove, Dan Faller and Big Newtons, which has performed as an opening act on Friday nights at Hot August Nights.
"They're considered to be one of the better classic rock-and-roll bands in the valley," said Jack Peasley, director of LCSC Summer School and Special Programs.
All concerts begin at 12 p.m. and run to 1 p.m. in the Centennial Mall of LCSC.
Treffry can be contacted at ltreffry@inland360.com or at (208) 883-4640.
If you go: WHAT: Hard Travelin' opens LCSC Summer Concert Series WHEN: 12 p.m. June 5 WHERE: Centennial Mall on the LCSC Campus COST: Free, $6 for food