By MICHAEL-SHAWN DUGAR INLAND360.COM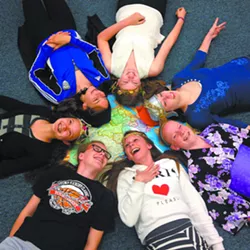 MOSCOW — Music is often regarded as the highest art form, because it can travel the farthest and the fastest emotionally. The music created by the the Hip Historians, a group of Moscow Middle School students, travels more than 700 years into the past.
The all-girl group is comprised of seven teenagers who have collectively been friends since elementary school: Katie Kitchel, Shelby Gresch, Brooke Staszkow, Claire Mullin, Jenna Woolley, Anna Bales and Jenna Stubbers.
As part of a world history class project, the group of ninth-graders-to-be wrote, recorded, choreographed and edited parody music videos of various pop radio songs.
Their music videos, attracting more than 6,000 YouTube views in five months, tell the historical stories of Chinese ruler Qin Shihuangdi, the Black Plague and ancient Egyptian Pharaohs through the melodies of hit records such as Adele's "Rumor Has It," Miley Cyrus' "The Climb" and Katy Perry's "California Girls."
But their greatest hit to date, generating just less than 3,300 views, is a parody of the pop song "Talk Dirty" by Jason Derulo that they renamed "Talk Nerdy." The video features the girls dancing around BookPeople of Moscow after hours in suspenders and glasses, while swapping Derulo's sexually suggestive lyrics with lines like: "Been around the school, don't speak the language/but my girls don't need explaining/all I really need to understand is when you — talk nerdy to me."
"We're all pretty nerdy," said Historian member Claire Mullin, whose in-home studio is where the group records the songs.
"With 'Talk Nerdy,' I think we had a really good quality video and it just flowed really well," said Bales.
The video got attention from all over, generating praise from the students and teachers at school. The people at Penguin's Puffin Books reached out to the Historians to thank them for featuring some of their books in the video.
Their next visual masterpiece to reach four-digit views is a sight every parent one day hopes to see: their daughters dancing on the Internet to Miley Cyrus. But rather than the edgy wardrobe selections (or lack thereof) Cyrus dons in her "Wrecking Ball" video, these new hyperlocal Moscow pop stars transform into Helen, Paris, Agamemnon and company as they tell the story of the Trojan Horse.
"My mom told me to tone down my dance moves," Staszkow said, while the rest of the group laughed, revealing that their parents were generally supportive of their product.
"They were all really excited," Gresch said of everyone's parents, "They went and posted (the videos) on their various Facebooks."
Their inspiration for the entire video campaign came after they were challenged by social studies teacher Angie Bailey.
"We watched a music video in class, and it was a parody, also, for the Trojan War," Mullin said. "It was really bad so she was like, 'Well you guys should make your own.' She suggested that we make one and modernize it a bit."
So naturally when word spread about the talent now roaming the hallways, other teachers wanted to see if the girls could apply their talents to other subjects.
"One teacher kept asking us why we wouldn't do it for science," Kitchel said. "We're not as inspired to write songs about science. And in science we don't have projects we have to turn in so we're not as motivated."
Everyone except Gresch — who will be attending high school in Seattle — is heading to Moscow High School in the fall, but the chances of the group continuing to make videos are slim, says Mullin.
"It all depends on how next year's history class goes and if we have as many project opportunities and as much freedom," she said.
The project wasn't all fun and games though, and despite being exempt from several other assignments, the girls were graded on the quality of their final video products. But in the end, they received a score they could all smile about.
"One hundred percent," the group said, laughing in unison. Dugar can be contacted at (208) 883-4628 or mdugar@dnews.com