If you don't know what an LC Valley Rock is, it's possible you've been hiding under one.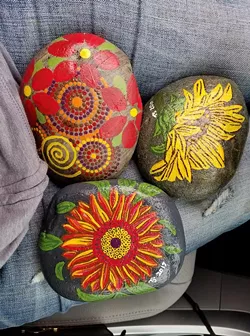 One year ago, LC Valley Rocks didn't even exist.
Now, the art abandonment project has added color and excitement to public spaces, gathered nearly 14,000 members on its Facebook page, inspired a mini-documentary, raised money for local organizations, given a name to existing local artists and made countless artists, art collectors and outdoor adventurers of all ages.
It's been everything that Myndie Van Horn, one of its founders, had hoped -- but not what she expected.
"I really didn't know it was going to explode the way that it did," said Van Horn. "I didn't think it would get this big."
The movement began with Lewiston's Art Walk last October. She organized a group to hide 75 painted rocks that directed people to the LC Valley Rocks Facebook page.
The idea took off like wildfire. Within weeks, hundreds of people began painting, hiding and finding rocks in parks, along sidewalks and in other public places. The number of painted rocks -- and those hiding and finding them -- continues to grow.
Van Horn credits a number of factors to the group's success. Rolling it out during Art Walk was a strategic move, she said. It gave the movement some immediate traction. After that, she and the other page admins worked constantly during those early weeks to build momentum on the Facebook page. They would post about rocks they'd found and hidden to set a tone for the page. Media coverage, rock-painting parties and promotion through Van Horn's art studio and gallery, the Fourth Wall, added fuel to the fire and before long, the whole thing took on a life of its own.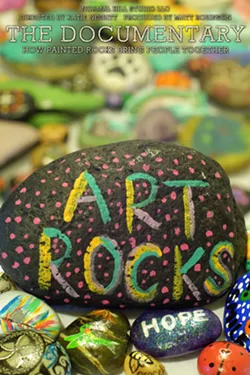 A short documentary entitled "Art Rocks: The Documentary" has been made about the movement. Produced by Matt Robinson and Katie Nesbitt, the film debuts on Saturday in a fundraiser for the YWCA. It has been accepted to show at the Gig Harbor Film Festival.
Through the movement, a number of local artists have risen to a sort of "celebrity" status on the Facebook page, Van Horn said. Rocks painted by certain individuals are distinct and especially celebrated among those lucky enough to find them. Some artists even sell rocks they paint.
Local businesses have also been a big part of the movement. Early Bird Supply has sold bucket after bucket of river rock, and Wal-Mart regularly sells out of the acrylic paint often used to decorate the rocks. Van Horn has also seen an increase in foot traffic downtown during the past year.
Early on, the whole thing took some effort. Van Horn was "babysitting the page 24-7" until they took a no-tolerance approach to unkind or uncooperative page members. By now, the site runs itself pretty much entirely, Van Horn said.
It helps that there has been a minimum of complaints about the project. For the most part, Van Horn said, people have been good about hiding rocks in places that won't cause damage and keeping them out of private property and businesses.
And on the flip side, she's heard countless positive stories that have come out of the movement, ranging from families enjoying each other to adults who've developed good friendships that would've never happened without the project.
One of the highlights of the past year for Van Horn was an event called CASA Rocks, a fundraiser for the organization which promotes and supports court-appointed advocates for abused and neglected children. She invited 20 to 25 popular artists from the group's Facebook page to paint three rocks to auction off. The event turned a bucket full of rocks into $2,772.42 for the organization.
Other rock-hiding groups have been started in other communities, including Moscow Rocks, Palouse Rocks and Pomeroy Rocks. Some have been inspired by LC Valley Rocks, others began separately.
IF YOU GO:
WHAT: "Art Rocks: The Documentary" world premiere and fundraiser for YWCA
WHEN: 3 p.m. Saturday; additional showings at 4 p.m. and 5 p.m.
WHERE: YWCA Lewiston-Clarkston, 300 Main St., Lewiston
COST: $3/person or personal hygiene items for those sheltered by the YWCA