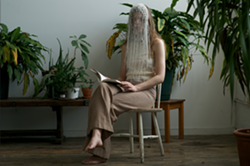 At 22 years old, Iceland's
Jófríður Ákadóttir is a musical veteran. She performs in her solo act, JFDR, Wednesday at Lewis-Clark State College in Lewiston.
Her music is described on her website as "a blend of cyclical guitar parts, soft minimal soundscapes and poetic wonderings of a journey that ends where it begins." JFDR draws from classical, folk and electronic music and is known for rich imagery and deep emotion in her lyrics.
Though her first full-length solo album, "Brazil," was released in March as JFDR, it is Ákadóttir's ninth album. She is part of two other music groups: Samaris, an electronic music group from Iceland that has been together since 2011, and Pascal Pinon, a duo group with her twin sister that began with a self-produced album in 2009 when they were 14 years old. She's also participated in other music projects.
Ákadóttir's visit is funded by the Rosehill Estate. She's recently been touring in Europe as part of her album release and is stopping in Lewiston between performances in Seattle and New York.
"Vague ripples reach my ear, circles in air water both still and flowing from one water to another a ripple meets a ripple, chaotic glimpses of something she said were memories, that became songs, that became ripples. A circle in a circle in a circle. I paint them in words in head but luck you get vague ripples talking tongues on thick wood. Cannot catch light from magic bulb. Let shine must let shine on you crystal sound. She is see-through rock. She is wander star heavy light."
-- JFDR writing about her song, "White Sun," courtesy of her website, jfdrcurrent.com.
[embed]https://www.youtube.com/watch?v=eikLsHzfpL4[/embed]
IF YOU GO:
WHAT: JFDR
WHEN: 7 p.m. Wednesday
WHERE: Lewis-Clark State College Music Building, Lewiston
COST: Free