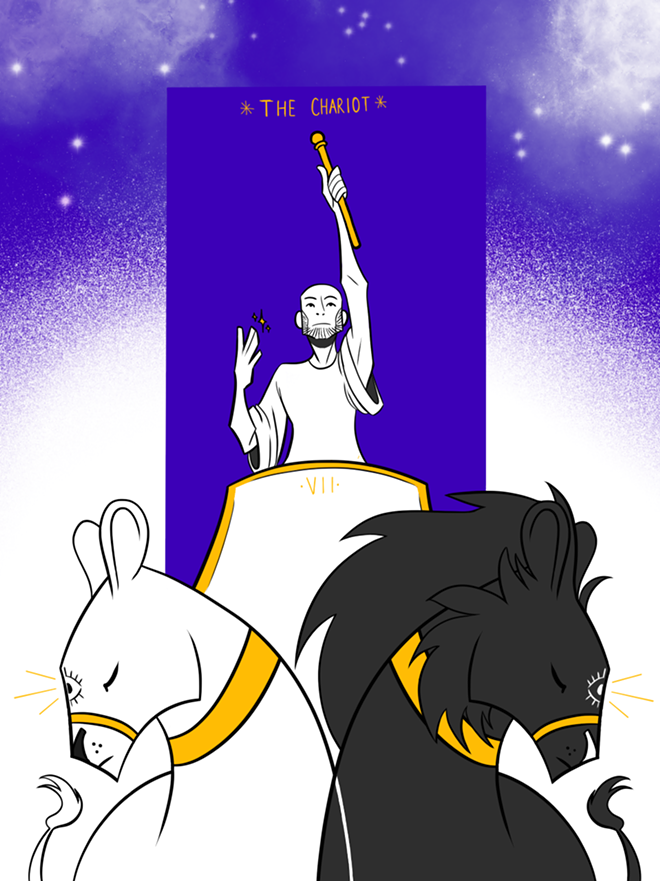 The Chariot
Cancer: June 22-July 22
In tarot, the chariot is seen as the quest and the journey that a hero travels.


When the chariot is pulled in a reading, it can represent anything from a physical journey to a spiritual one and can be a sign to move forward.
On this card designed by Inland 360 illustrator Lars Roubidoux, we see a charioteer being led by two horses, one black and one white, which can symbolize being pulled in different directions, challenging the charioteer. The armor he is wearing represents that the charioteer is ready and willing to fight for his goals.


The chariot represents the zodiac sign cancer and can signify someone who is always active or continuously striving for a goal.


If you're planning on taking a journey this month, make sure to pace yourself and set realistic goals — don't burn yourself out.


In the Cards is a monthly exploration into the world of tarot readings. Johnson can be found on Etsy at BlackMagicBeautyShop and Instagram @blackmagic._beauty.