Inland 360 readers, we've got your number. Er, your sign. Well, maybe just something fun and new — in the form of a monthly peek into the world of tarot with an explainer by local reader Jacey Johnson and accompanying image by illustrator Lars Roubidoux.

Johnson, of Lewiston, got into tarot reading when she was given a deck about three years ago.
"I've always been interested in palm reading, tarot and the history behind it," she said. "I started off doing readings for myself and just got into doing readings for others last year with my classmates in esthetician school."
She plans to offer tarot readings along with her esthetician services when she opens a retail space, but for now she does them through her Etsy shop at BlackMagicBeautyShop.
"I can't wait to share what I have learned with you all," she said.
Roubidoux, a longtime Lewiston resident, works as a part-time news clerk at the Lewiston Tribune and moonlights as an illustrator for Inland 360. Raised on Disney movies, he's been drawing since he was a little kid. He's looking forward to the challenge of creating tarot card images to accompany Johnson's words.
— Mary Stone, Inland 360 editor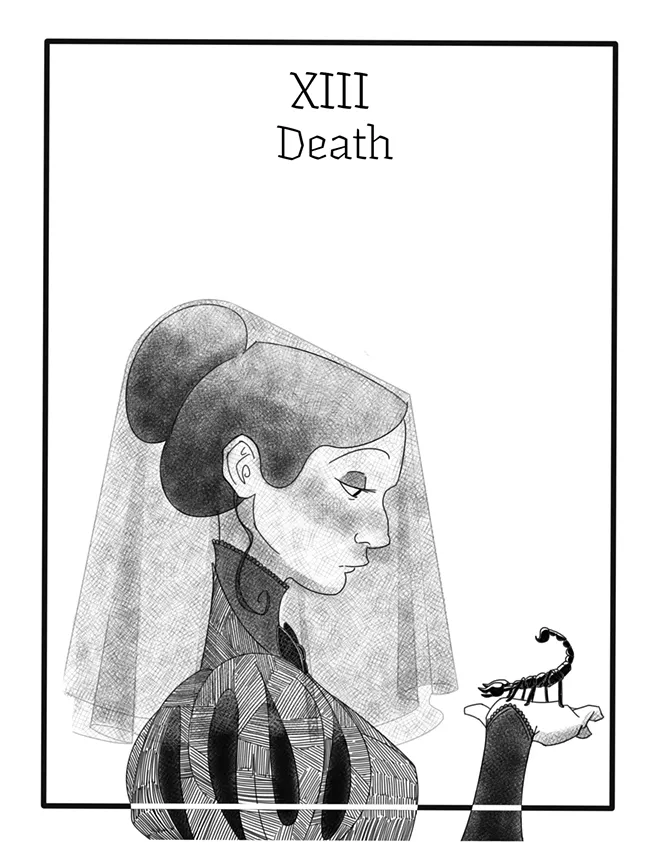 This month's card calls readers to contemplate their present so they can seek transformative change.
XIII Death
Represents Scorpio: Oct. 23-Nov. 21
In tarot, the death card also represents the Scorpio zodiac sign. Together they represent a need for intense change. Death refers to the deep transformation and new beginning that can come only through the death closure, or "death," of another chapter, for example a caterpillar transforming into a butterfly.
Scorpio season is the best time to evaluate your life and the people in it. Seek out what needs to be changed to become a better you.
For me recently, that meant taking steps to move toward opening my esthetics business, something I've been working toward for a couple of years.
When was the last time you experienced a dramatic change?
Johnson can be found on Etsy at BlackMagicBeautyShop and Instagram @blackmagic._beauty.