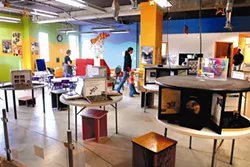 Aspiring young inventors can find local inspiration at Innovations on the Palouse Saturday at the Palouse Discovery Science Center in Pullman.
The interactive event is showcasing a handful of new, locally-developed ideas. Kids will be able to see products and technologies first hand, use them when applicable and talk to their creators. The event is held in partnership with the Palouse Knowledge Corridor, a group that is working to advance the region for economic purposes.
"We want to get kids thinking 'What could I do? What's the next world problem that I'm going to solve?' " said Francis Benjamin, with the Palouse Knowledge Corridor.
Some of the featured innovations, all developed on the Palouse, will include:
Bager Braces. The current design for ankle braces goes back to the 1800's and Ed Robertson, a Pullman physical therapist, thought that modern medicine could do better than that. He created a brace that stabilizes the part of the ankle that needs to be kept from moving and while allowing for movement in other parts. Find out more at www.badgeranklebraces.com.
Kea.
Kea is a computer app that helps you learn to identify birds by playing a game. Not only does this technology help people of all ages better appreciate the birds they see, but Kea is intended to serve as a funding mechanism for nature conservancy. Find out more at kea-learnbirdsthroughplay.com or get the app in the iTunes App Store.
Polymorphic Games. If kids think learning is boring, they might have to reconsider. Polymorphic Games is a group of University of Idaho students and faculty working to develop video arcade games that teach scientific concepts. Find out more at www.polymorphicgames.com.
TriboTEX. Tribotex uses nanotechnology to produce a lubricant and metal restorer. A car engine, for example, doesn't run as well as pits form in the cylinder over time. This product fills in the pits to make it run more smoothly. TriboTEX is currently focused on car and military applications, with possibilities beyond that. Find out more at www.tribotex.com.
MathFire. MathFire began several years ago as some Pullman educators developed a better process for learning math. The system has been used for years, but they recently added technology to the mix and created a computer app. You can get the app in the iTunes App Store.
IF YOU GO:
WHAT: Innovations on the Palouse
WHEN: 11 a.m. - 2 p.m. Saturday
WHERE: Palouse Discovery Science Center, Pullman
COST: Admission is $6/children ages 2-15, $7.50/adults, $6.50/seniors 55+