Kaylin Wells remembers asking her parents how to go to college for veterinary medicine when she was just a sixth grader. Now a Washington State University senior, she plans to work in large animal mixed medicine soon after May graduation.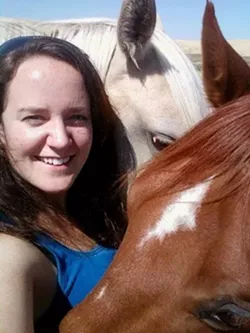 "It was kind of something I always wanted to do," Wells said.
Visits to her family's hobby farm in Buckley, Wash., spiked her interest in equines, and her love for horses goes beyond medicine. While Wells has never owned a horse, she creates them.
Wells' paintings, drawings and charcoal pieces will be on display through mid-May as part of WSU Animal Health Library's twice-yearly "Art in the Library." A free, public reception for her will be 4:30-6 p.m. Friday at the library in Wegner Hall 170.
A self-taught artist, the Federal Way, Wash., native began by painting jewelry boxes and eventually moved to canvasses.
"Or when I'm really bored in class," she said, laughing.
For future "Art in the Library" exhibits, email cmiller@vetmed.wsu.edu.
-Lindsey Treffry, Inland360.com