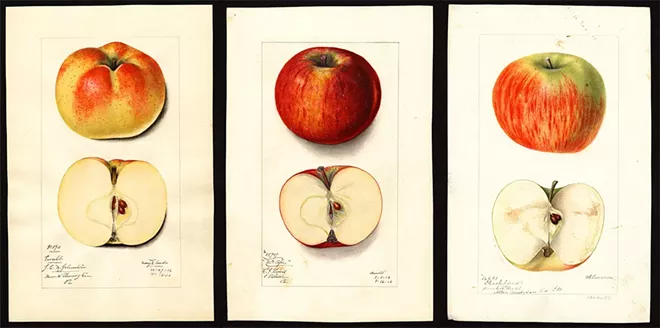 Apples are pretty popular, as it turns out.
And no, we're not talking about the latest phone release. The original apples -- the kind that grow on trees -- have made David Benscoter a highly sought-out individual. Known as the "apple detective," Benscoter has found eight apple trees in the region that are varieties once considered to be extinct. These include Nero, Dickinson, Arkansas Beauty, Shackleford, Ewalt, McAfee, Saxon Priest and Kittageskee.
News of his work has run in the Lewiston Tribune, the Spokesman Review and even the New York Times -- even with that, people can't seem to get enough of his lost apples. He's an in-demand speaker at events throughout the region, including the Confluence Dinner taking place Nov. 8 in Lewiston. The event was originally scheduled for today.
All the attention has only given him more work. In his home office in Chattaroy, Wash., just north of Spokane, Benscoter has leads to nearly 1,000 trees that could be the next once-extinct variety. And that's why he welcomes the press.
"It generates more talk and more leads to old orchards," Benscoter said.
Though he's only been doing this for the past four or five years, Benscoter has had years of experience tracking things down. He worked six years for the Federal Bureau of Investigation and 18 for the Internal Revenue Service criminal division. Now that he's retired, he finds apples.
"They're a better class of characters," he said.
Even so, he employs the same meticulous methodology, searching things like county records of the locations of old homesteads and newspaper articles from the early 1900s for varieties entered in county fairs.
That's how he found his first rare apple. He was looking for a Walbridge -- also called the Edgar Red Streak, because of its distinctive red streaks. The variety had been entered more than any other at the fair, so he figured there was a good chance one of the trees was still around. Benscoter went looking through old orchards on a hill west of Colfax. He didn't find what he was looking for and left. But the trip wasn't fruitless. As he turned a corner, he looked up and spied another uncommon variety.
"It was the weirdest-looking apple I'd ever seen," Benscoter said.
He described it as "an apple with corners on it" that has "beautiful gold and orange coloring." The fruit matched the description for a Fall Jeneting, but he had it sent away to confirm -- and that's what it was. It's only the second tree of that variety known to exist.
He went on to find and identify other apples, but identification isn't the final step. Every tree that is identified is photographed and charted with GPS. This ensures that time and money aren't spent identifying the same tree twice.
Benscoter also is working to bring each of the varieties thought to be extinct into wider use. Apple trees don't grow true from seed, he explained, so in the spring he collects scions, or cuttings, from the tree and grafts them into purchased rootstock. He works with a couple heritage apple nurseries, Raintree Nursery and Burnt Ridge Nursery, both in western Washington, to bring the trees back into production. It's hoped that one or both growers soon will be able to offer these varieties for sale.
Benscoter's work is year-round, but is busiest as apples ripen in September and especially in October. Of the 22 apple varieties listed as extinct that are documented to have been grown in the region at some time, all but two are keeper apples that ripen late and store well through the winter. These varieties were popular among homesteaders.
Benscoter does his work through the Lost Apple Project, a nonprofit project through the Whitman County Historical Society. The group has a Facebook page, and committee members often join him on apple hunts. Those who know the location of old apple orchards or unusual apple trees are encouraged to email dbens23@gmail.com.
IF YOU GO:
WHAT: Confluence Dinner
WHEN: 5:30 p.m. Nov. 8
WHERE: Jollymore's: A Dining Experience, 1516 Main St., Lewiston
COST: $75; tickets are limited to 40 and are available for purchase at the Beautiful Downtown Lewiston office, 301 Main St., Suite No. 103 or through the group's website.