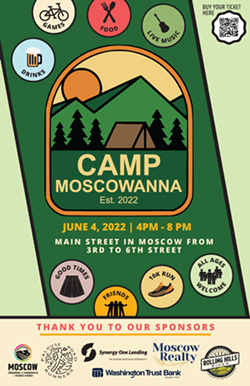 A summer camp-themed block party is set for 4-8 p.m. Saturday, June 4, in downtown Moscow.


Camp Moscowanna includes live music and activities for all ages on Main Street between Third and Sixth streets, where vendors will serve beer, wine and food at the "Main St. Mess Hall," according to a Moscow Chamber of Commerce & Visitor Center news release.

Moscow-based The Sultry Swines are set to headline the event, playing dance music influenced by rhythms and grooves from Latin America, American blues and rock 'n' roll.

Tickets for the family-friendly event are necessary only for those 21 and older who plan to consume alcohol and can be purchased at moscowchamber.com/event/camp-moscowanna.

The Palouse Road Runners will meet at Headwaters Trailhead at 8 a.m. for a Camp Moscowanna 10k race on Moscow Mountain. More information and registration for that event is at palouseroadrunners.org/summer-10k-series.

The day wraps at 8 p.m. with a screening of "Wet Hot American Summer" at the Kenworthy Performing Arts Centre. Tickets are $5.

Set on the last day of camp in 1981, "Wet Hot American Summer" follows a group of counselors each trying to complete unfinished business before the day ends, according to a Kenworthy news release.

The theater also will have a summer camp-themed costume contest running under its marquee from 4-6:30 p.m.