'Murder on the Orient Express' a thrilling ride
Film review by Katie Walsh
Agatha Christie's 1934 mystery novel "Murder on the Orient Express" was memorably adapted to film in 1974, with Albert Finney playing the fastidious Belgian detective Hercule Poirot. Now, Sir Kenneth Branagh slips into Poirot's signature mustache in a star-studded, big-budget remake which he also directed.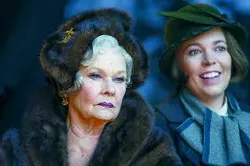 The way he tears into the performance, with an elegant vigor, it seems as though Branagh has been waiting his whole life to age into the role of Poirot, clearly relishing the blend of quirky meticulousness — one could call it obsessive-compulsiveness — and cheeky humor. He runs away with the picture, both as star and director, with lavish production design and an intoxicating and dazzling display of cinematic style.
The murder mystery set aboard a train from Istanbul to Calais is the kind of old-fashioned romp we don't often see anymore, executed with a thoroughly modern sense of vervé and rhythm. An opening prologue set in Jerusalem concerning a missing religious relic shows us Poirot's unique methods, as well as lays out the spritely, agile pace and warm humor that pervades Poirot's presence. Despite his dealings with dastardly doings, Poirot maintains a sense of dignity and cheer. He's truly funny — this is a man who wears an elaborate sleeping mask on his mustache and giggles incessantly at Dickens — but he does take crime very seriously.
Poirot's hoping for a vacation, but alas, that's not to be. When he runs into an old pal in Istanbul (while marveling over an array of breads — this man loves his baked goods), he secures passage aboard a luxury sleeper train, soon to become a crime scene. Through a series of dizzyingly complicated long shots, we're introduced to all our main characters in the train station as they board, the characteristics and clues flying fast and furiously.
As for the stars in "star-studded," we've got well-regarded favorites — Michelle Pfeiffer as a cougarish husband hunter, Judi Dench as a Russian princess, Penelope Cruz as a severe missionary, Willem Dafoe as an Austrian professor and Johnny Depp appropriately cast as a dirt-bag gangster and obvious villain. Joining them are up-and-comers Daisy Ridley as an international governess, Leslie Odom Jr. as a noble doctor, Sergei Polunin and Lucy Boynton as a reclusive Count and Contessa and Josh Gad as the gangster's secretary. When the murder is discovered, Poirot is pressed into duty, and all passengers become suspects.
Those who have read the book or know the original film will know the twists and turns of the mystery, but it's not worth spoiling for those who are new to the story. The pop and fizz of the opening, and the lush production are utterly transporting and will make you crave a croissant, a coupe of champagne and a long trip on a luxury train through a wintry landscape.
But as the mystery deepens, reveals itself and grows darker, it becomes sad, delving into the aftermath of trauma and how it reveals itself. No longer a romp, all of the energy that Branagh starts out with drains like blood out of a corpse, leaving the film ultimately cold to the touch. The beginning is a rollicking ride that will likely leave audiences craving more Christie, and here's hoping we do see Branagh return as Poirot — his rendition is too fun to be cut short.
Walsh writes for Tribune News Service.
'MURDER ON THE ORIENT EXPRESS' 3 stars Rating: PG-13 for violence and thematic elements Cast: Kenneth Branagh, Johnny Depp, Judi Dench, Michelle Pfeiffer, Penelope Cruz, Daisy Ridley, Josh Gad, Leslie Odom Jr. and Willem Dafoe Director: Kenneth Branagh Running time: 1 hour, 54 minutes