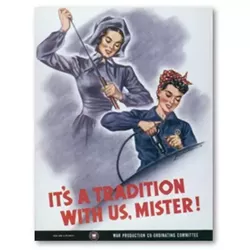 From pilots and nurses to shipyard welders and tap dancers, "Women of World War II," by Clarence E. Mershon, chronicles the lives of 34 women who were part of the Greatest Generation.
Mershon will sign copies of his book from 1-3 p.m. Saturday at And Books Too in Clarkston. One of the women featured in the book is Joy Wilson who grew up in the Asotin-Anatone area. For Wilson a life of poverty ended with a job in a shipyard.
Wilson was the ninth of 12 children born to Charles and Frances Wilson. When the Wilsons lost their wheat farm during the depression her father returned to sheep herding. Family members took what jobs they could, including delivering moonshine. After she graduated from Asotin High School in 1940 news spread about defense industry jobs in Portland. She and other family members relocated and found work at the Henry J. Kaiser Swan Island shipyard. There they made as much in a week as her father had in a year. One of Wilson's first purchases was a fur coat.
She became such an exceptional welder that her bosses encouraged her to compete for the national welding title. She outscored all women and men to win the title. She married her foreman Archie Hodges and after the war they went into the home and hotel building business in Portland. She died June 3.
"World War II changed things greatly in this country and they kind of represent that change," Portland author Clarence Mershon, 81, says about the women in his book who come from around the Northwest.
Mershon is a retired math teacher and school administrator. He's written 10 other non-fiction history books. After writing a book on male veterans he decided he needed to write about the women of World War II, he says, because they are half of the Greatest Generation.
Mershon will also be signing copies of his book "The Columbia River Highway, from the Sea to the Wheatfields of Eastern Oregon." Published in 2006 the book is his bestseller and tells the history of the highway which reaches from Seaside, Ore., to Pendleton, Ore. It contains rare photographs and a personal twist. Mershon's grandfathers, father and uncles all worked on the highway during its construction which began in 1914. ("Women of World War II," by Clarence E. Mershon, self-published, 314 pgs., $20)
What: Clarence Mershon book signing When: 1-3 p.m. Saturday, June 23 Where: And Books Too, 918 Sixth St., Clarkston