NOTE: The time and date of this event was corrected at 10:50 p.m. Thursday. The doors open at 6 p.m. Friday and the concert starts at 6:30 p.m.
By KAYLEE BREWSTER
Some spend the holidays binge-listening to seasonal tunes and Christmas carols.
But Saturday, something more nightmarish will be playing in the Lewiston-Clarkston Valley.
The Nightmare Before Christmas concert features bands of various metal and punk styles from the Inland Northwest. Ryan Levey, founder of Monumental Booking, said the concert has been going on in Spokane for the last seven years but has not been staged in the valley in recent years.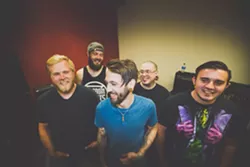 The concert has nothing to do with the movie "The Nightmare Before Christmas," Levey said.
"There are so many bands, it's so monstrous, so just because of its size it's a nightmare and sometimes the style of music can scare people," Levey. "And it's a nightmare for me to set up sometimes."
Kyle Tostenrude of the Lewiston-Clarkston Moscow-Pullman Music Union said a loss of venue was one of the reasons the valley version of the concert had been put on hiatus. Levey said a friend who used to live in the valley helped plan the concert and get equipment, and his departure put the show on ice.
Jesse Economen of the band Rise&Shine contacted Levey in October and found a venue at the Salsberg Room. He helped gather equipment and the show was back on.
Most of the bands are from Spokane and Coeur d'Alene, except Rise&Shine from Lewiston and Crisis Neglect from Pullman.
Levey said most bands don't tour this time of year because of the holidays or winter driving conditions.
"It gives the local bands their time to shine and puts the spotlight on them and gives people a chance to see what is homegrown," he said.
The concert also provides a different style of music for the valley.
"Especially here, it's dominated by straight rock, folk, cover bands of the '80s, '70s, '60s," Tostenrude said. "It's something different for the valley. Hopefully it catches on."
The concert is geared more toward teenagers and those ages 15 to 30 who are into heavy metal, Tostenrude said.
"Lots of kids are into the hardcore emo stuff tied with teen angst," he said.
Economen said the concert's location is ideal for the younger set, since most concerts are staged in bars unavailable to music fans younger than 21.
Economen said if there is enough fan base there will be more shows like Nightmare Before Christmas that feature regional bands.
"Hopefully we can make some magic happen down there," Levey said.
IF YOU GO
WHEN: doors open at 6 p.m.; concert starts at 6:30 p.m. Friday
WHERE: Salsberg Room, 504 Main St., Suite 201, Lewiston
COST: Tickets are $8 in advance and $10 at the door. Tickets can be purchased at www.monumentalshows.com/event/188357 or by contacting Jesse Economen at jeconomen@gmail.com