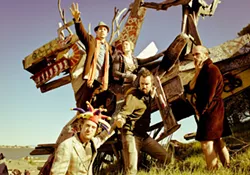 Antioquia
Pronounced: an-tee-oh-kee-ah
Hometown: San Francisco
Genres: Experimental rock a.k.a Afro-Colombian psychedelic lovefunk
Bio: Birthed in Colombia and bred in Oakland, Calif., Antioquia makes music that inspires raucous dancing and deep listening. The group formed when traveling gringos, Adley Penner and Craig Miller, met at a bar in Ecuador and started a band. They took their sound to the states and with their blend of rock, funk and world rhythms hit the ground running with two critically acclaimed albums.
The Sound: "Peppered with fits of improvisation, bouts of silliness and fiery percussion pieces performed amidst the crowd, an Antioquia set is high energy, captivating, and anything but predictable."
Unusual fact: "Music is just an excuse for us to jump naked into every body of water in the country."
Members: Rachel Antony-Levine, lead vocals, keyboard; Adley Penner, vocals, guitar; Tomas Salcedo, guitar; Paul Martin, vocals, bass; Craig Miller, vocals, drum kit
Gigs:
8 p.m. Tuesday and Wednesday at John's Alley Tavern, 114 E. Sixth St., Moscow
10 p.m. May 10, Liquid Lounge, 405 S. Eighth St., Boise