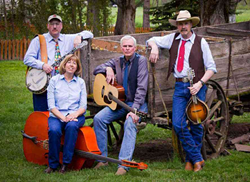 Ingredients Flat-picking mandolin champ and lead singer Dale Fisk Helen Smith on bluegrass bass and rhythmic glue First-place winner in Idaho's Old Time Fiddler's guitar flat-picking competition Dennis Maggard, on banjo, guitar, and mandolin Two-time Utah state flat-picking champion Dave Hunt on guitar and mandolin
Directions When their two-, three- and four-part harmonies and instrumental solos unite, prepare for high-voltage bluegrass — an ear-grabbing mix of old-style bluegrass, newgrass, country, folk and acoustic.
Serve At 7:30 p.m. Saturday, May 11 at the Old Opera House Theatre in Kooskia. Tickets are $12 and available by calling Graves Floral and Thrift, (208) 926-0094.