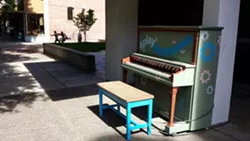 As part of a "public music" program, outdoor pianos are popping up in downtown Lewiston. The first one can be found near Brackenbury Square in front of 609 Main St.
"Play Downtown," a project spearheaded by Beautiful Downtown Lewiston, places musical instruments in public spaces with the aim of building community, encouraging creativity and adding visual beauty, according to a prepared statement from the group. The organization plans to acquire and rehabilitate two more pianos over the coming months.
The first piano was donated by Lewiston Parks & Recreation. Community volunteers at Refresh the Valley April 12 worked on the instrument. It was painted by local artists with weatherproof paint so it can remain outdoors. It will receive routine maintenance and tuning by volunteers affiliated with Beautiful Downtown Lewiston.
Plans are for two more painted pianos to be installed at semi-permanent locations downtown before Downtown Art Walk in late September. Anyone interested in donating a piano may email Breanne Durham at breanne@beautifuldowntownlewiston.org. Artists or school/children's groups interested in submitting a proposal to paint a piano may also email Durham.
Signage on each piano will invite the public to play, and encourage respectful use of the instrument. Artists will also be identified. Volunteers or nearby business will be assigned to each piano to ensure that it is routinely maintained.