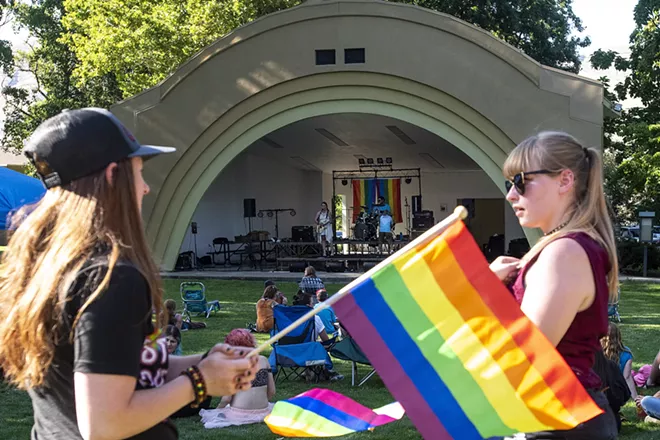 Editor's note: Inland 360 is featuring information about area groups and individuals serving the LGBTQ+ community for Pride Month. This week's group, Chroma LC-Valley, organizes the Lewiston-Clarkston Valley's Pride event, Celebrate Love. It also supports the Transformation Station, operating out of Lewiston's Grateful Threads Consignment store, and offers a Valley Safe Zones program that includes nearly four dozen participating businesses "where diverse individuals can feel safe, welcome and included" listed on the chromalcv.org website. (Tribune Publishing, including Inland 360, is among the Safe Zones listed.) Inland 360 visited with Chroma LC-Valley's Myndie VanHorn.
Inland 360: You helped lead Chroma LC-Valley to nonprofit status earlier this year. What doors does that open for the group?
Myndie VanHorn: We are now a recognized 501c3, which means we can apply for grants, and donors can deduct their donations from their taxes. We will be able to develop our LGBTQ+ programs here in the valley and offer so much more for our community. We have very large ideas for what we want our nonprofit to look like, and we hope to do that with the help of our community. For more information on how we are set up and more visit our website at chromalcv.org.



360: Is there a story behind the name?
MV: We were looking for something to do with color. As a group we spent quite a while trying on names and nothing seemed to fit. Chroma means purity or intensity of color, and when we stumbled on that as an option we all knew that was the name right away.
360: Are you still seeking board members? Who can join the organization?
MV: We are definitely seeking board members, and our current board will be considering board applications after we get through Celebrate Love. We are focused on our event right now and want to invite our LGBTQ+ community to apply for our board. We are looking for people with board and nonprofit experience to fill our board slots. Anyone can join the organization, and we will be needing plenty of help outside of our board to develop new programs in the valley too.
360: Celebrate Love, a pride event in Lewiston's Pioneer Park, is set for July this year, correct? What should people look forward to with its return?
MV: We have Celebrate Love planned for 4-9 p.m. July 9. We already have quite a few vendors registered. We are still in the middle of event planning, but we are planning on having music, speakers and other performance art, art activities, vendors and food trucks. We are really looking forward to the "Return of Love."
360: What other projects and events does the group hope to bring to the valley?
MV: We have been actively working with high school groups and have brought two LGBTQ+ proms to the valley in the last two years and are looking forward to creating a valleywide GSA (gay-straight alliance). We are also organizing activism groups, public health services, education and other community events, as well as working with other valley partners.