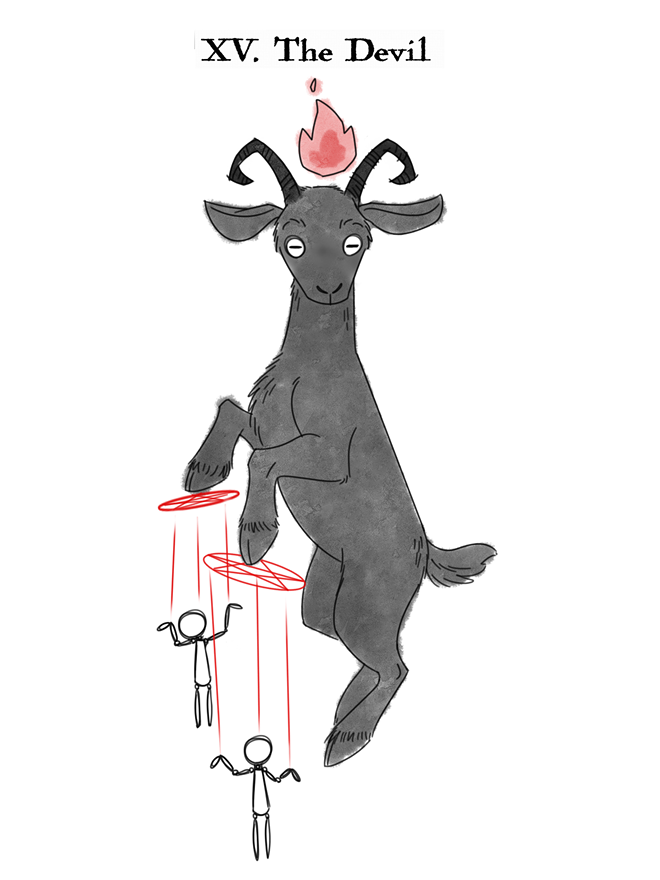 THE DEVIL
Capricorn, Dec. 22 - Jan. 19
"We have nothing to fear but fear itself." — Franklin D. Roosevelt
Last month's card, temperance, and this month's card, the devil, are opposite in the eyes of temptation: the temptation to stay in your routine because it feels safe, the temptation to stay "comfortable" in your day-to-day life.
At first glance, the devil card can be seen as scary and negative. The dark side of this card represents the darkness that lies within all of us. But, it's a new year, and we aren't going to start off on that note.
The devil also can represent a lust for life, and this can be useful unless taken to excess. This can remind us that life is short, and our Earth has brilliant and beautiful things to see, feel and experience, with the devil also reminding you that there is a darkness to all of those things.
In this card designed by Lars Roubidoux, we see a goat representing the zodiac sign of Capricorn holding two puppets, with pentagram details symbolizing descended spirits being trapped in the mundane.
Keep this card in mind when evaluating your goals for the new year. With everything happening in the world today, have you been finding yourself giving in to a darkness?
This month, try to do something you have feared doing in the past: Book that trip, apply for that job, stand up for what you believe in.
Have a great first month of our new year. Cheers to 2022!
In the Cards is a monthly exploration into the world of tarot readings. Johnson can be found on Etsy at BlackMagicBeautyShop and Instagram @blackmagic._beauty.