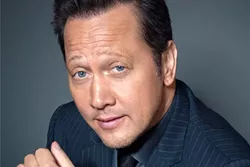 Comedian and "Saturday Night Live" alum Rob Schneider is scheduled to perform at 7 p.m. Saturday at the Clearwater River Casino & Lodge outside Lewiston.

Schneider made a name for himself in acting, directing, comedy and screenwriting. He was hired as a writer on the sketch comedy show "Saturday Night Live" in 1988 and was nominated for an Emmy three times for his work. He starred as a member of the cast from 1990-94.
Born in San Francisco, Schneider's family is of Filipino and white descent. His father was Jewish, and his mother Catholic. His mixed background has been a common theme in his comedy acts. A frequent collaborator with actor and comedian Adam Sandler, he's starred in "Deuce Bigalow: Male Gigolo," "50 First Dates," "Grown Ups" and many other films. He released his first Netflix comedy special, "Asian Momma, Mexican Kids," in 2020. It highlights Schneider's family and personal life and includes an appearance by his daughter, Elle King.
Schneider also has a weekly podcast, "See What Happens," with his wife, Patricia Maya Schneider, where they talk show business, their contrasting parenting methods, food and philosophy.
Doors for Saturday's show open at 5:30 p.m. Tickets range from $40-$75 and can be
purchased online at the Clearwater River Casino
website. Anyone younger than 18 must be accompanied by an adult. The casino is at 17500 Nez Perce Road.