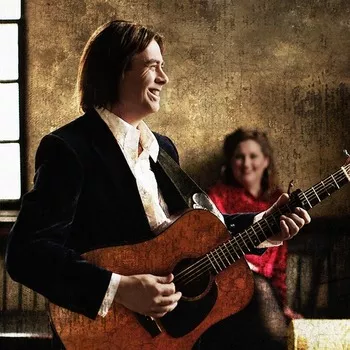 MOSCOW - One of the marks of a good artist is the ability to create work that is uniquely his.
On stage, Arthur Lee Land offers a live show experience that takes the audience into the studio as he creates his music. His live-looping technique uses a mixture of instruments and foot-operated computers to create songs in front of the audience.
Land, truly a one-man band, will have his fusion of folk-rock, AfroGrass, and electronica on full display Friday at John's Alley Tavern. It will be his first performance there, one of many stops on his Northwest tour leading up to the Northwest String Summit beginning July 17 in North Plains, Ore.
Although he spends a great deal of his time writing and recording alongside his wife, Carol, he said 90 percent of his live shows consist of spontaneous music, treating the crowd to a truly organic musical experience.
"Basically I'll start with a kick drum that's sampled from my album, I'll loop it, hit it on the keyboard, and then I'll add a bunch of percussion parts, sometimes beat boxing and African percussion," said Land, 53. "I'll get that going then I'll lay down an acoustic guitar part and sometimes sing while I'm actually recording the guitar part, do a verse and a chorus then go over and play the base and then come back and switch to another instrument."
The extensive stage regimen gives the audience a view they rarely experience, the human element of music. The concertgoers watch Land both create the sounds they will later dance to, as well as hear his mistakes and critique them to his face. In that regard, they become part of the show. It's a heavy load to bear, but after more than a decade of practice Land has it down to a science.
"Because I've been doing it so long, I make it look easy, but it's a deceptively complex art form," he said.
Land's frequent live shows, and music-making in general, hit a major road bump when he lost his voice in 2012 because of a polyp on his vocal cord. His voice became extremely hoarse as the days went on, then after about two months it was completely gone. He went from taking vocal lessons to relearning how to sing altogether.
His singing hiatus was short-lived, however, as he refused to undergo surgery, which actually led to a rather speedy recovery.
"I said no, I'm not gonna do that (surgery), some other people have had some bad experiences with it, and it screwed up their voice," he said. "But I had a miraculous healing, it took like six months, and then my voice was back and better and stronger than ever."
After a full recovery, Land was able to work on his fourth album, "Cracked Open," which answers the question that drives his career: "Why is my heart cracked open?"
Turns out he has a slew of answers to choose from, and the temporary loss of his voice is just the beginning. Following his vocal cord recovery, Land was diagnosed with Graves (hyperthyroid) disease, which forced him to wait another two years before finally releasing the album. Those two situations, plus the floods in his hometown of Lyon, Colo., have cracked the electro-Americana music maker's heart, a negative scenario that he has transformed into a musical positive.
His cracked heart has also changed the way he views his life. He's more grateful than ever to have a voice - both literally and figuratively - and to be able to share his gift with the world with his wife of 26 years by his side.
Dugar can be contacted at mdugar@dnews.com or (208) 883-4628. Follow Dugar on twitter @Mikedelaphante