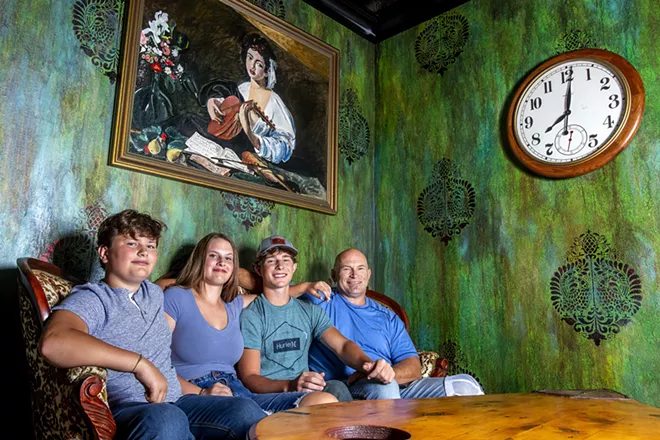 What started out as casual Sunday service performances launched a dad and his three teenagers into a rock- and gospel-inspired collective named Torn Veil, that recently played to a crowd of several hundred people during Live at Five in the Tri-Cities.
The band performs covers of classics from the '70s and '80s, including tracks from Fleetwood Mac, Lynyrd Skynyrd and Joan Jett and the Blackhearts, along with religious songs.
"As a pastor, I use a lot of music in my sermons," said father Geoff Stevens, of Clarkston. "I've used Pink Floyd's "Comfortably Numb," U2's "I Still Haven't Found What I'm Looking For" and some Johnny Cash. Music can speak so profoundly to human issues and emotions."
Stevens leads Christ's Church in Kamiah.
Jack, Caroline and Grant, ages 17, 16 and 13, respectively, all sing in the band, which recently welcomed a new drummer to the mix, Kurt Howard.
"Music is always there," said Caroline, who plays the keyboard and acoustic guitar in addition to songwriting. "It's gratifying to see all the hard work I've put in – countless hours practicing, by myself and with the band – pay off. It's such a thing to turn to."
Her eldest brother, Jack, plays the electric guitar. The two will head to Memphis, Tenn., in January to compete in the youth showcases at the annual International Blues Challenge. Caroline was selected by the Washington Blues Society as the state's representative for the competition.
"From a young age, we realized music was very powerful," Jack said. "It can move people and connect us in different ways."
Once they decided to play outside a church setting, they focused on songs that would make people want to get up and dance. They also used the opportunity to bring spiritual songs to a new environment.
"We go into venues where the people might not be comfortable going into a church," Jack said. "Then we'll play songs to try and introduce them to more of the gospel."
One of the songs they play frequently is "Amazing Grace" to the tune of "House of the Rising Sun" by The Animals. He said it's an innocuous way of weaving in spiritual meaning, redeeming the house described in the rock classic with lyrics from the rewrite.
Two years ago, the group opened for Redstone at the annual Kamiah Barbeque Days. So far this summer, the family has played a show every other weekend. Their next gig is 7 p.m. Sept. 4 at the Three Rivers Resort outside Kooskia.
The youngest member of the band, Grant, said it's an incredible feeling to be on stage with those closest to him.
"Typically, in a band, you'd be looking out into the crowd for your family for support," he said. "Instead, they're right on stage next to you."
More information about the band is available on its Facebook or Instagram pages.