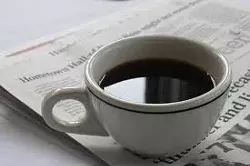 Relish your cup of morning joe? The history of coffee is as dark and rich as the brew. From 2 to 3 p.m. Saturday, Jan. 25, you can learn more at "From Mocha to Java: The History of Coffee" at the Lewiston City Library. Lewiston historian Garry Bush and coffee roaster Randy Elben of Rivertown Coffee Roasters will present a tour of coffee's history and tastings.
Eight Coffee Facts for Your Consumption
1. In one legend, coffee consumption began in modern day Ethiopia when a goat herder realized the bean's effects on his goats.
2. The word Mocha comes from the Yemeni port city on the Red Sea once famous for being Arabia's chief coffee-export center.
3. In 1616, the Dutch circumvented an Arab restriction on exporting fertile coffee beans and brought the first plants to the Netherlands. They later spread the "koffie" plant to Central and South America, where today it is the continent's cash crop.
4. Around the time Europeans were introduced to coffee, they also first tasted hot chocolate, brought to Spain from the Americas in 1528; and tea, first sold in Europe in 1610.
5. The world's largest insurance company, Lloyd's of London, began life as a coffeehouse when Edward Lloyd prepared lists of the ships that his customers had insured.
6. The Boston Tea Party of 1773 was planned in a coffee house, the Green Dragon.
7. In the 1970s Seattle gave birth to a new coffee cafe culture, which improved the quality of the beverage around the world.
8. 54 percent of Americans age 18 and older drink coffee everyday. The U.S. spends $40 billion on coffee each year. — Sources: International Coffee Organization, Harvard School of Public Health