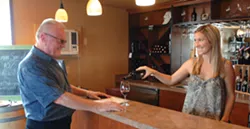 Good stories can be told anywhere but this summer they'll be paired with wine in Clarkston.
The Asotin County Library is partnering with Basalt Cellars winery for a new speaker series called Wine and Wisdom. The series starts at 7 p.m. Tuesday with professional storyteller Rebecca Hom telling true tales of Chinese pioneers in the west.
"As far as going out and doing it somewhere else and doing the wine thing this is the first time," librarian Jennifer Ashby says about the series which is modeled after a Humanities Washington program called Think & Drink which brings hosted conversations on topics to pubs and tasting rooms around the state. Speakers for Wine and Wisdom are also from Humanities Washington which has an extensive audition process, Ashby says.
A storyteller for more than 20 years, Hom married into a family with four generations of Chinese-American family history. She has travelled the West and China extensively gathering research about early Chinese-American settlers. Until recently the role Chinese people played as railroad workers, loggers, miners and cowboys on the frontier was often ignored. The Shelton, Wash., storyteller will present "Climbing Gold Mountain, Gum Sahn: Chinese Pioneers in the Western Frontier." A discussion will follow.
The event is for all-ages. Refreshments will be offered and wine will be for sale.
Basalt Cellars is co-owned by Rick Wasem and Lynn DeVleming. Since its first vintage in 2004 the winery has gone on to collect several awards for its wines which are made from a blend of local grapes and grapes from the Columbia Valley and elsewhere. Their 2007 Merlot received Gold and Best of Variety at the 2011 Tri Cities Wine Festival and a Platinum in Wine Press Northwest's 12th Annual Platinum Judging.
Wine and Wisdom will continue at Basalt Cellars in July and August.
--- 7 p.m. July 31, Award-winning author and radio producer Harriet Baskas of Seattle will talk about Washington State's unusual and offbeat people, places, things and events. Baskas is a columnist for USA Today and author of "Washington Curiosities." --- 7 p.m. August 28, Bruce and Susan Matley of Prescott, Wash., will present "Lasso Our Heritage: Cowboys and Cowgirls in Story and Song."
What: Wine and Wisdom When: 7 p.m. Tuesday, June 26 Where: Basalt Cellars, 906 Port Dr., Clarkston How Much: Free. Wine will be available for purchase.