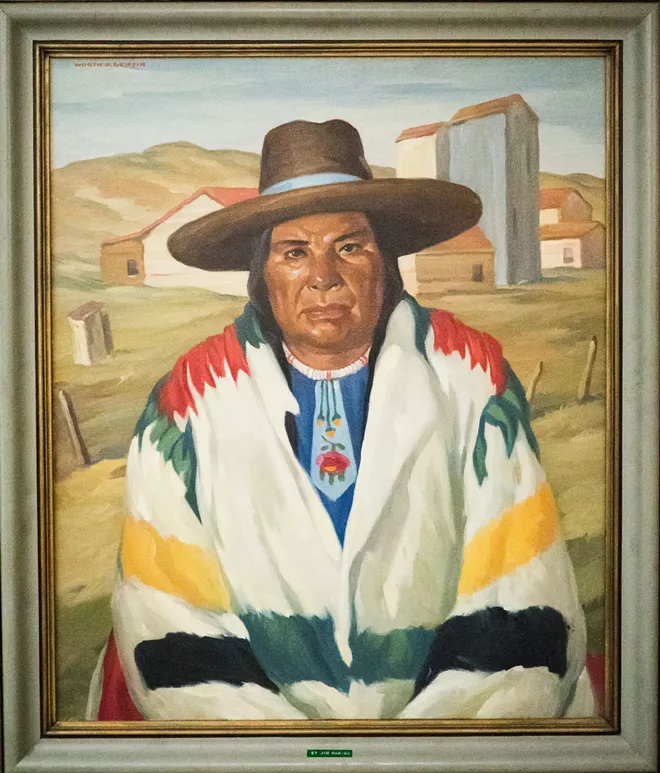 The Washington State University Jordan Schnitzer Museum of Art reopened to the public this week and is featuring two new exhibitions. Visitors are required to follow campus-specific pandemic guidelines and programming will continue to be held online.
The first exhibit, "Follow the River: Portraits of the Columbia Plateau," features the museum's Worth D. Griffin Collection of Native portraiture alongside items from Plateau tribes, including the Palus (Palouse) and Nimiipuu (Nez Perce), whose homelands the WSU Pullman campus is located upon.
The second exhibit, "Under the Same Sun and Moon: New Acquisitions from the Collection," showcases new acquisitions from the museum's permanent collection. Over the last five years, the museum has added significant works of art, and this will be the first time many of them will be on display, according to a news release from the university.
People visiting campus and the museum are required to follow guidelines related to the pandemic. Visitors must fill out a form attesting to their state of health before arrival. The www.attestation form is available online at www.museum.wsu.edu/events and proof it was filled out will be required for museum entry. In addition, those older than 2 are required to wear a face mask, and museum capacity is limited to 25 percent. The guidelines are subject to change, and people should check for updates online before planning a visit.
Programs related to the exhibits will continue to be held online. From 5-5:45 p.m. next Thursday the museum will offer the talk, "Into the Archives: Photography from the Colville Reservation" on YouTube at www.bit.ly/IntoArchives.
In 1936, Clyfford Still co-founded an artists' colony in Nespelem, the Indian Agency on the Colville Reservation in Washington. During his time there, Still sketched and photographed the Native Americans whose livelihoods had been negatively affected by the construction of the Grand Coulee Dam by the U.S. government. Milo Carpenter, a digital archivist for the Clyfford Still Museum in Denver, Colo., and Michael Holloman, a WSU fine arts professor and a member of the Colville Confederated Tribes, will discuss the creation and context of the work.
The museum was closed to the public for large portions of 2020 and, more recently, since December. Spring semester hours are 1-4 p.m. Tuesday through Friday and 10 a.m. to 4 p.m. Saturdays.