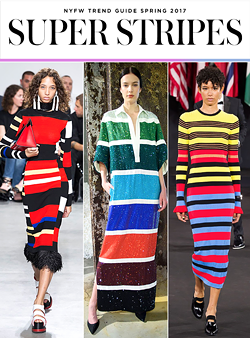 The new year brings with it a break with the past and an anticipation of what the future will bring. With that, we present a collection of trend predictions for the coming year.
Fashion and Beauty
The fashion forecast is sunny with a good chance of stripes. Elle fashion magazine and stylecaster.com are predicting stripes — both extremes, thin and super wide — to be big this year along with ruffles and clothing with laced ties. And speaking of laces, toss those clean, classic white sneakers — designer sneakers are going to be popular, according to Elle. Also watch for athletic-inspired designs to continue to creep into everyday streetwear.
For colors, look for Pantone's color of the year, "greenery." The fresh, yellow-green shade is inspired by nature and transcends the seasons, according to Pantone.com, and can be paired as a neutral with a number of other colors.
What can you clean out of your closet? Those skinny jeans that have clung to us for so many years will begin giving way to vintage cuts, Elle predicts. And super high heels will be replaced with a more modest and comfortable heel.
Food
Veggies will dominate the dinner plate in the coming year, according to the Baum + Whiteman, international food and restaurant consultants. Veggies will continue to push animal products off the plate as they take animal-product-like forms and tastes and replace carbs in comfort foods — think zucchini noodles and cauliflower rice. And all those veggie castoffs — the beet and carrot tops and turnip greens? You'll end up eating those and other food byproducts in one form or another as food preparation moves to a no-waste model. Think leftover whey from yogurt production in probiotic drinks and mayonnaise made from the leftover liquid from cooked chickpeas.
Whole Foods Market predicts you'll start seeing coconut everything this next year, as well as creative condiments and more naturally purple foods. The Wall Street Journal predicts moringa, a highly nutritious tree leaf grown in Haiti, Latin America and Africa, will become the new super food, that jackfruit will become a popular exotic and that companies will continue to move toward "clean labels," featuring natural, recognizable ingredients.
Home Decor
The neutral whites, woven grasses and faux fur of last year's house trends are giving way to jewel tones and velvets this year, according to a trend prediction from Zillow Digs. Marble surfaces and overly industrial furniture will become more common. But that quote art that's covered walls and Pinterest boards for the past couple years? That trend's time has come and gone.
In kitchen design, cabinet trends are moving toward whites with wood accents — clean-lined modern warm wood cabinets are also a go, according to a 2017 trend prediction by Houzz.com. You'll also see walls of tile, rather than simply a backsplash, and look for hexagonal tile to take the place of white subway tiles. There will be a focus on modern, uniquely designed barstools as barstools become "the new jewelry of the kitchen."
Technology
Video-based content will continue to rise in popularity over text-based content as technologies like Facebook Live become more popular and are extended to a variety of platforms, according to ericsson.com regarding upcoming technology trends. We'll all see big strides forward in the "Internet of Things," which is where everyday objects, like home lights and appliances, have network connectivity that allows them to send and receive data through smartphones or other devices. And in social media, we'll continue to see "social silos" where people are drawn to, interact with and rely on news and other information with people of a similar mindset, isolating themselves from mainstream information streams that may hold opposing viewpoints.
Graphic and visual design
Perfect, Photoshopped images aren't what people are looking for anymore — consumers will be seeing more authenticity, as unfiltered, raw, playful, real-not-ideal images take center stage, according to the visual design trend predictions at creativebloq.com. We'll also be moving past two-dimensional images as we explore 360 and virtual reality technology. Expect to see colors in new ways in the coming year, as designers use colors imaginatively rather than realistically, redefining what something should look like.