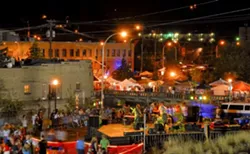 It takes a canoe paddle to stir the 350-gallon bowl full of chili that will be cooked up and served to visitors at this weekend's National Lentil Festival in Pullman.
It won't be the biggest bowl of chili ever made. Pullman holds that record at 650 gallons. Unfortunately, that much chili was impossible to stir and the bottom burned, says Pullman's tourism director, Vicki Leeper. So, even though the specially constructed stainless steel bowl can hold that much, only 350 gallons are made. It requires 450 pounds of lentils and serves 8,000 people at the Friday Night Street Fair.
The National Lentil Festival started as a small harvest festival celebrating local farmers 24 years ago. It's grown to be Pullman's biggest event, drawing 26,000 attendees to a town of 20,000, Leeper says. The advent of the Internet spread word of the festival worldwide, Leeper says. Most recently it was featured in the July issue of Every Day with Rachael Ray magazine.
Although peas and garbanzos also grow on the Palouse, festival founders chose the lentil because it was quirky and not as well known, Leeper says. Since then lentils — cheap and protein-rich — have gained in popularity, but there are more lentil eaters outside the U.S. than in it. The Palouse grows 25 percent of the world's lentils, Leeper says. The bulk are shipped overseas on barges out of Lewiston.
Food booths at the festival feature fare made from lentils, whether it be Greek or Asian or wood-fired pizzas and cupcakes.
Saturday's events feature a lentil recipe showdown six months in the making. The Legendary Lentil Cook Off starts in April when people send their lentil recipes to festival organizers. A panel of chefs reviewed this year's 127 entries narrowing them down to the 50 "most unique, fabulous and easy to make," Leeper says. A group of 50 volunteer cooks prepared the recipes in July and 20 judges selected the top six to be cooked and served at 2 p.m. Saturday. The first 400 people in line will receive last year's cookbook and a token to vote for their favorite 2012 dish. First place wins $1,000. Each recipe is made to serve 400. This year's top six include Lentil Shortcake and Peasant Kiss Lentil and Butternut Squash Chili.
Live music, a parade, a beer garden, sporting events and the children's area, Lentil Land, are among the festival's many activities. More has been spent on entertainment this year than ever before, Leeper says. Alternative rock musician Tyrone Wells of Spokane will perform at 1:45 p.m. Saturday. Wells' songs have been featured on TV shows, including "Grey's Anatomy" and "Ghost Whisperer" and films, including "My Sister's Keeper." Bands performing Friday night include Seattle's Cody Beebe & the Crooks, and Hit Machine playing dance hits from all eras. A complete list of events and times is online at www.lentilfest.com.
if you go
What: National Lentil Festival When and Where: 5-11 p.m. Friday Night Street Fair, downtown Pullman; 8-5 p.m. Saturday, Reaney Park Cost: Free Online: www.lentilfest.com