Halloween costumes don't have to cost money or time. Here's five costume ideas for adults that will wow your friends made from things you can easily scrounge up around the house: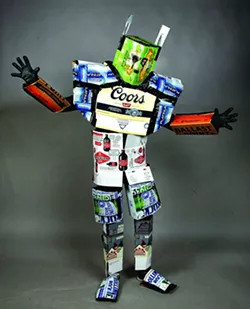 1. Beer Box Transformer The Costume: Beer drinkers are action heroes in this Transformer-themed costume assembled from empty beer boxes. You'll Need: About a dozen beer boxes of various sizes and duct tape. Special Considerations: Save boxes or gather them from helpful beer-drinking friends. A variety of sizes is best to fit to various body parts. Once you decide which box will go where start duct taping parts together. Realize that your bulked up, boxy frame will take up a lot of room at parties, dancing will be difficult and getting a beer to your lips may prove impossible. Also, men may feel the need to topple you.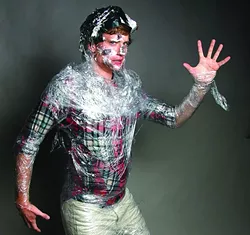 2. Leftovers The Costume: Your witty humor is on display when you wrap yourself in plastic wrap and tin foil and hit the town as last night's (or last month's) leftovers. Your undergarments can set the tone for what's inside. Extra credit for painting your face. You'll Need: plastic wrap, tin foil. Special Considerations: It's going to get hot and sweaty wearing all that plastic. Leave some air holes and don't even consider covering your face, unless you want to be a Halloween headline.
3. Street Crosser The Costume: You are the figure in the electric pedestrian crossing sign who is eternally crossing the street. You'll Need: Black clothes, a string of white lights, tape, an electrical outlet. Special Considerations: Wrap lights around your black-clad frame, plug yourself in and assume the position of the street crosser with one arm and leg forward. To pull off this costume you will need to stay near an electrical outlet and avoid drinking or being electrocuted by clumsy drinkers.
4. Modern Devil The Costume: You are the devil in whatever guise you please be that red-clad and horned, or wearing modern-day garb. You'll Need: A scroll, a feather and red paint; or a little black book and a red pen; or a smart phone. Special Considerations: To succeed as the devil you have to work hard wrangling souls. Go around asking people what it would take for them to sell their soul to you — money, power, fame, a date, a drink? Prepare to offend with this interactive costume.
5. Snack Bar The Costume: You're the life of the party. You are the snack bar. You'll Need: Bags of food, duct tape, cardboard to make a sandwich board (optional). Special Considerations: Tape bags of food to yourself in this costume that invites a crowd. People will gather around to feast from your bounty. ———