Turkey is the most popular dish for Americans on Thanksgiving. About 46 million turkeys were killed for the occasion in 2011. For some, there is a no-kill option, though: Tofurky Roast. So, the Inland 360 staff was put to the test. Being the meat-lovers they are, it's no surprise they were skeptics of a roast free of animal products. But what's a little "meat" without the tryptophan? Well, results may vary:
"Is that how it comes, in just a little box?" said news editor Jeanne DePaul, holding the empty cardboard from which the roast came — once frozen and wrapped in plastic.
Photographer Barry Kough, who refused to partake in testings, said it looked like a wheat bun.
A lift of the foil, revealing the roast, resulted in an upturned nose. Managing editor Doug Bauer lifted a trash can and motioned toward copy editor Craig Clohessy, the leeriest of the group. Cooked in soy sauce and oil, with sweet potatoes and onions in the oven, the Tofurky's center exposed a wild rice stuffing once cut. Slices were handed to each staffer in the group.
"It's kind of an interesting texture," said graphics editor Brian Beesley, who took the first bite. "I mean, it's a little bit like turkey and it tastes like turkey ... It'd be really good if it had brown gravy slathered over the top."
Clohessy, who looked ill, said it reminded him of grade school lunches, when children were fed what was supposed to be turkey, but was really "mystery meat."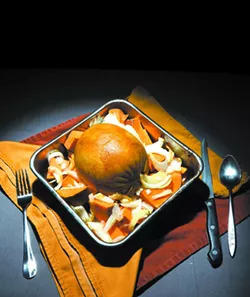 "It has the consistency of fat," he said.
Despite enjoying the wild rice stuffing, production editor Julie Breslin said there was no turkey flavor in the roast, and worse — it squeaked in her mouth when she chewed.
But there were some fans of the dish, too.
A tofu lover, DePaul said the soy-based roast tasted like turkey and gravy.
"The tofu itself, not great," Doug Bauer said. "The overall dish, OK ... If you get a bite of everything together, it's pretty palatable."
But some just didn't see the point.
"If you want to eat turkey, why not just eat turkey?" Clohessy said.
Breslin agreed.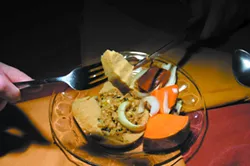 "If you're a vegetarian, why are you trying to eat turkey?" she said.
DePaul argued the whole point of Tofurky is because vegetarians don't want to eat the animal.
"You're trying to join in and have something to slice at the table," she said.
Some still weren't convinced: "Why don't you just eat a *bleeping* salad?" said photographer Steve Hanks, who only tried a smear of the roast from his fingertip after accidentally touching it during the photoshoot.
"You couldn't fool your family," said reporter Jennifer Bauer, who was once a vegetarian for 13 years.
Doug Bauer joked that serving the meat substitute would be a good way to test how good of friends you have.
"That wouldn't substitute as a Thanksgiving turkey for anyone," DePaul said.
All the plates were wiped clean, other than Clohessy's, and the Tofurky exceeded most tester's expectations. For Thanksgiving, though, the staff will stick to their roots.
"This is going to make that real turkey taste all the better," Doug Bauer said.
Vegan and Tofurky fan Lindsey Treffry can be reached at (208) 883-4640 or ltreffry@inland360.com. Follow her on Twitter @LindseyTreffry.
What's Tofurky made of?
Roast: Water, vital wheat gluten, organic tofu (water, organic soybeans, magnesium chloride, calcium chloride), shoyu soy sauce (water, non-GMO soybeans, wheat, salt, culture), expeller pressed non-GMO canola oil, natural vegan flavors, non-GMO corn starch, garbanzo bean flour, white bean flour, lemon juice from concentrate, onion, carrot, celery, vegan sugar, calcium lactate from beets, sea salt. Stuffing: Organic brown rice, whole wheat bread cubes (enriched wheat flour, water, organic sugar, sea salt, yeast), onion celery, water, organic wild rice, expeller pressed non-GMO canola oil, natural vegan flavors, garlic, salt, vegan sugar, spices and tumeric (added for color).
How do I make vegan gravy? Try a mushroom gravy, such as the one recommended on the Tofurky box.
Ingredients: 8 oz. sliced mushrooms, 1/4 cup sliced onions, 1-1/2 Tbsp. oil, 1/2 cup unbleached white flour, 2 Tbsp. oil, 4 cups vegetable stock or soymilk, 1 Tbsp. soy sauce, 1/4 tsp. black pepper. Directions: Lightly saute the sliced mushrooms and onions in the 1-1/2 Tbsp. oil. In another pan, combine and bubble the flour and 2 Tbsp. oil together over low heat for 1 minute. Whisk in the stock or soymilk along with the soy sauce and black pepper. Cook until thickened, whisking out any lumps. Stir in the mushrooms and onions, and serve.
What vegan dishes can I serve on the side? Cook a butternut squash, topped with a bit of oil and brown sugar. Or, try the same with acorn squash. Most cranberry sauces are safe, just be sure gelatin isn't one of the ingredients: It's collagen extracted from the skins, bones and tissues of farm animals. Roast some carrots, with maple syrup, oil and fennel seeds in the oven. Rolls and bread are an easy addition, just read the ingredients before buying — most are OK, but some include buttermilk, butter or eggs.