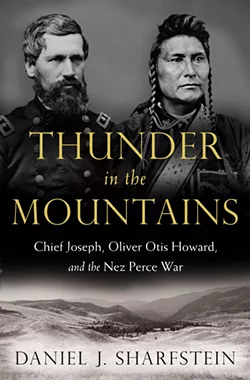 By Jennifer K. Bauer
jkbauer@inland360.com
In the history of the West, General Oliver Otis Howard is often remembered as a villain who pursued the Nez Perce to their 1877 surrender in the last great war between the U.S. and American Indian tribes.
Reality is much more complex. A decade before the war, Howard was a pivotal figure in the reconstruction of the South, championing liberty and equality for millions of freed slaves.
In the new book "Thunder in the Mountains: Chief Joseph, Oliver Otis Howard and the Nez Perce War," author Daniel J. Sharfstein shines new light on Howard and Joseph.
According to Publisher's Weekly, "No other book better brings to fore the qualities of Chief Joseph or better explores the dilemma of his pursuer."
Sharfstein will speak Monday at the Nez Perce National Historical Park Spalding Visitor Center. Beforehand, he talked to 360 about how he became interested in Howard while researching his first book, "The Invisible Line: A Secret History of Race in America."
"I"m really excited to be back in Northern Idaho," said Sharfstein, a professor of law and history at Vanderbilt University. "We think the Nez Perce War happened 140 years ago, but only in the Northwest and in Northern Idaho do you see how close that history really is."
360: What was Howard's role in the reconstruction of the South?
Sharfstein: After the Civil War there were 4 million newly freed people in the South. The South in general was in ruins. There was widespread worry that thousands would starve in winter of 1865-66, and the U.S. Bureau of Refugees, Freedmen and Abandoned Lands, popularly known as the Freedmen's Bureau, was established to coordinate general relief. It was the first federal social welfare agency in the country. The Emancipation Proclamation and the 13th and 14th Amendments established liberty and equality as the guiding values of a reconstituted nation, but those legal texts did not define liberty and equality in any detail. The concepts had to gain meaning in practice. The bureau was one of the most important mechanisms for that. Howard was its head, crucial to the enterprise. He was one of the most important figures in reconstruction.
360: What causes did Howard champion as director of the Freedmen's Bureau?
Sharfstein: One choice that to him was very important, was to channel a lot of bureau funding into education for African Americans. He believed education would be an enormously productive resource, especially when it wasn't clear if the nation and the government had the will to help African Americans and support them in their striving for citizenship over the long term. If the government is weak, education is a way to gain liberty and equality in spite of that.
Howard championed a full university with a college, medical school, and a normal school to train teachers. By the time it was chartered by Congress it was a given it would be named for Howard (Howard University in Washington D.C.).
360: So, how did Howard go from pursuing liberty and equality to chasing the Nez Perce over the mountains of Idaho and Montana?
Sharfstein: Reconstruction failed. He went out west searching for redemption after failing at what he thought would be the mission of his life. The bureau was defunded and snuffed out, in many ways due to Howard's shortcomings as an administrator and leader. He went back to the military. He thought that by going out west and supporting what was known as Grant's peace policy -- moving Native Americans onto reservations -- he thought this was his path back into the good graces of the nation. He thought this could be done peacefully, that reservation policy would lead to full citizenship rights for Native Americans, that the alternative would be genocidal war, which he didn't want.
360: What was the relationship between Chief Joseph and Howard?
Sharfstein: When they initially met, Howard thought that he and Joseph would have a very productive working relationship. He actually wrote an official report that he thought Joseph's land claims were well founded and that the Wallowa Valley should be taken out of the public domain and given back to Joseph's band. I think that his position really changed after Custer's Last Stand in June of 1876. He saw a way to find redemption more quickly. Within weeks, he was in Washington D.C. saying the next big Indian war would be in Wallowa Valley and that he was the only man that could really avoid it. He said he could peacefully negotiate for the non-treaty Nez Perce bands to move onto the reservation.
360: But Howard wasn't able to convince Joseph to give up his claims and go to the reservation.
Sharfstein: When Joseph said no, invoking concepts of liberty and equality that would have been immediately recognizable to Howard, Howard took this very personally. He saw Joseph as standing in the way of something that he had planned out and really prayed for and dreamed about. Howard then made several decisions and used his discretion in ways that really accelerated the path to war. He went from thinking of Joseph as a friend to regarding him as an enemy. He wasn't a negotiating partner anymore, he was someone showing contempt for the process and someone Howard thought could only be governed by brute force.
360: You write about how, in the end, Howard helped make Joseph famous.
Sharfstein: In the immediate aftermath of the war one of Howard's aids named C.E.S. Wood released what he said was Joseph's surrender speech to the press, and Howard included that surrender statement in his official report to the secretary of war. It was printed and reprinted, and by the time the survivors of the war were marched from the battlefield to Bismarck in the Dakota Territory, people were lining the street in Bismarck waiting to get a glimpse of the great man, Chief Joseph. In the years that followed, Howard wrote one book all about Joseph and devoted large parts of other books to the Nez Perce War. He couldn't stop writing about it and in a way he was responsible in part for turning Chief Joseph into a celebrity and a leading figure of dissent from what America had become after reconstruction.
360: Your book also explores Joseph's methods for making his voice heard and argue they are an underappreciated part of his legacy.
Sharfstein: Joseph was thousands of miles away from Washington D.C., and he didn't speak English, so he had to confront what seemed like an insurmountable challenge. How do you get heard or find the right people to talk to and how do you make them listen?
Joseph figured out that what he had to do was find any federal official he could possibly find. He would press his case to anyone who happened to be passing by the Wallowa Valley. Almost immediately his efforts bore fruit. He started in 1872, and by 1873 President Grant had issued an executive order that guaranteed land in the Wallowa Valley for Nez Perce people living their traditional lives. That was reversed, but Joseph realized something very important about American power, something that holds true today. Power is split between so many different authorities, branches and agencies that a conflict never really ends if you want to keep fighting because there's always someone else to turn to. He understood that in a way that Oliver Otis Howard never figured out.
If You Go
Who: Daniel Sharfstein, author of "Thunder in the Mountains: Chief Joseph, Oliver Otis Howard, and the Nez Perce War"
When: 3 p.m. Monday
Where: Nez Perce National Historical Park's Spalding Visitor Center
Cost: Free
"Thunder in the Mountains: Chief Joseph, Oliver Otis Howard, and the Nez Perce War"
By Daniel Sharfstein
W.W. Norton & Company
613 pgs., $29.95