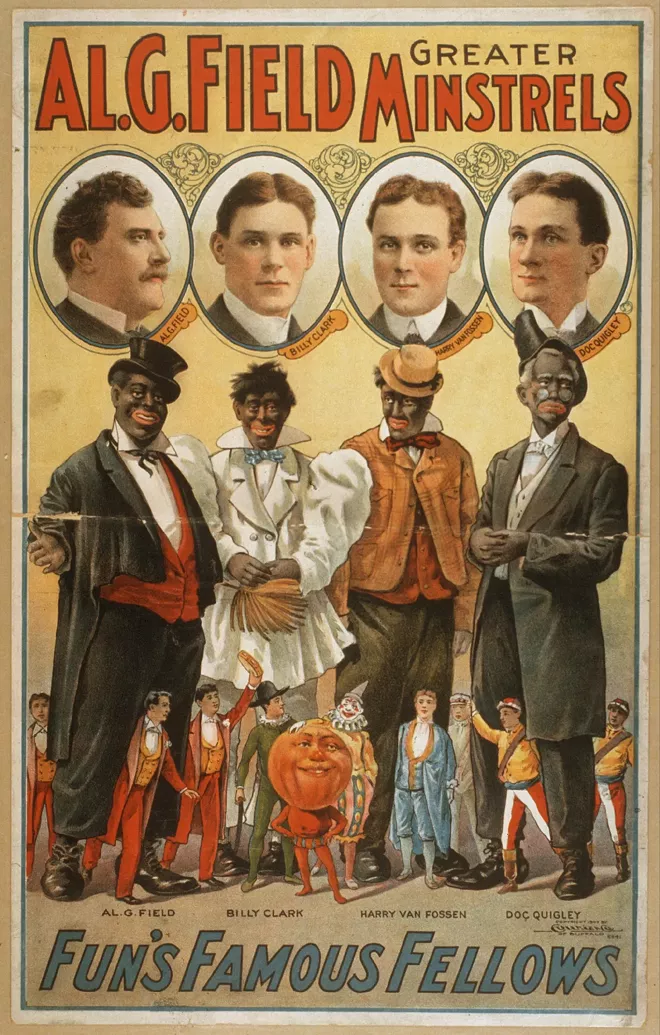 By REMINGTON JENSEN
For Inland 360
Minstrel shows were a key component in American entertainment during the 19th century, consisting of the lampooning of people of African and African-American descent for entertainment purposes.
The shows provided a platform for black citizens to promote their work, while simultaneously entertaining those who laughed at stereotyped and exaggerated depictions of these human beings.
Among the seas of black-faced Caucasians was a musical undertone that brought classics like "Jimmy Crack Corn" and "Camptown Races" into the American consciousness. Although these songs normally are heard while fire-roasting marshmallows or heat-blistering hot dogs on a camping trip, back then they were written for minstrel exhibitions.
Seattle-based DJ Amanda Wilde wishes to expose the troubling-but-educational history of minstrel shows and the issues these carefree-sounding songs still inflict on society. She'll give a presentation titled "The Hidden History of America's Favorite Music" Tuesday, June 12 at Basalt Cellars in Clarkston as part of a Humanities Washington program sponsored by the Asotin County Library.
"Minstrelsy morphed and changed, but it didn't go away, and some citizens get a lot of their current cultural attitudes from the strange, bizarre subject of minstrelsy," Wilde said. "It's a very painful part of our history, but the reason it is important to uncover is that it's at the roots of much of what we see happening now."
Songs created for the purpose of minstrelsy often depicted the lives of those affected by slavery. The song "Blue Tail Fly" (which most know now as the ditty, "Jimmy Crack Corn") includes lyrics that the slaves the songs were written about could relate to, such as:
"When I was young I used to wait
On master, handing him his plate
I brought his bottle when he got dry
And brushed away the blue tail fly"
However, for audiences of time they were merely catchy tunes that placed harmonious melodies behind mild (for the era) caricatures of black people.
"(The presentation) is about how music brings us together, but how there's also a hidden history behind this music that relates to the (race) issues we are facing now," said Wilde, a radio announcer who hosts the weekend midday show at the Seattle National Public Radio affiliate KUOW-FM 94.9. Serving as a historian on a panel for a Humanities Washington conversation on music, Wilde had a conceptual spark. While speaking about the little-known origins of seemingly harmless songs, she could tell by the audience's attentiveness that this seldom-spoken-about topic was relevant and important.
One issue Wilde has with minstrelsy's past is that it exploited black culture for entertainment purposes, without being mindful of the people it was based on. However, drawing and quartering the subject of minstrelsy is difficult because the subject matter -- while being of poor taste now -- did humanize black people. The tradition of minstrel shows reached its cultural apex between 1850 and 1870 (slavery ended in 1865). It eventually was supplanted by vaudeville entertainment, but not before offering one of the only opportunities for unheard-of black entertainers to publicly present their work.
"It's an odd part of our history that we don't want to face, but I feel that we have to," Wilde said. "The bad parts of the minstrel show, the stereotypes and attitudes that prevail to this day, aren't going away if we don't see where we got them from."
Minstrelsy is a sticky subject, especially in a modern sense when one ties songs that Boy Scouts chant on bus rides to America's racial issues. One focus of Wilde's presentation is to present the honest question of "what should we do" in a safe conversational environment.
Minstrelsy's deep transparent stitches, threaded into the soil of the American South, prompt the question: How much minstrelsy still is in effect today? A version of "Carry Me Back to Old Virginny" was Virginia's state song for 150 years, Wilde said, until 1997, when the old minstrel tunes' racial content stirred controversy and provoked change.
"The prejudice that we see happening now was fostered and seeded in this form of entertainment," she said. "It's not, nor should it be, something separate from us and our American consciousness. By tugging on the threads of minstrelsy, we could unravel the whole fabric of American culture, but we can never disentangle the distorted racist stereotypes that arose from minstrelsy with art and opportunity that came out of that same tradition."
IF YOU GO WHAT: "The Hidden History of America's Favorite Music," by Amanda Wilde WHEN: 6:30 p.m. Tuesday, June 12 WHERE: Basalt Cellars, 906 Port Drive, Clarkston COST: Free, wine will be available for purchase.
https://www.youtube.com/watch?v=MKM59ZCFo8Q&t=0s&list=PLq1goBvVBxKlvaAxp4KLigvHuuJHe1zMS&index=3