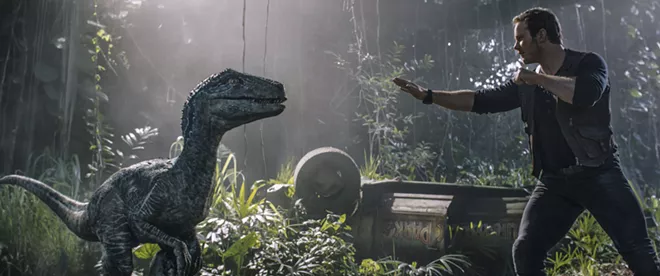 Movie review
By Kaylee Brewster
In "Jurassic World: Fallen Kingdom," more dinos equals more problems but it doesn't always equal more action.
Since the events of 2015's "Jurassic World," the island Isla Nublar, home to Jurassic Park, has gone to the dinosaurs.
However, a volcanic eruption on the island threatens another extinction of the dinosaurs. Claire (Bryce Dallas Howard) enlists the help of Owen (Chris Pratt) to rescue the remaining dinos, including Owen's velociraptor, Blue.
Rescuing dinosaurs from a volcanic island proves to be the easiest hurdle the team faces as the plot reveals forces far more sinister at work.
"Jurassic World: Fallen Kingdom" is a story in two parts: the island rescue and what happens after. The two halves are woven together to tell one story and shake up the usual "dinosaurs eat people in a park" narrative. It works well for this film, except when it doesn't.
Story-wise the two halves seamlessly fit together; plot-wise it creates a little lag in the action. There is a bit too much sitting around trying to plan what to do next and not enough dinosaurs-attacking-humans.
Despite plot issues, "Jurassic World: Fallen Kingdom" showcases numerous dinosaurs who all look and act like real creatures. Not only that, the film emphasizes their emotions, especially emotional connections to the characters, as well as the audience. The dinosaurs in this film aren't prehistoric plot devices, they have feelings and desires.
The main characters are also developed more than the former rugged animal wrangler and uptight heel-wearing park manager. Claire feels a responsibility to take care of the animals she and the park created. Owen wants to save the animal he raised from an egg and protect Blue from those who would use her for profit.
Owen and Claire work well together and Pratt and Howard portray them expertly. Owen always has a funny quip to share. Claire ditches the heels and takes a more active role in finding, saving and fighting the dinosaurs and in this way takes center stage.
"Jurassic World: Fallen Kingdom" isn't perfect, but it's still a fun adventure to enjoy. A little darker than its predecessor, this film adds some new twists to the Jurassic Park franchise that take it to new, unexpected heights. Audiences will definitely want a sequel.
https://www.youtube.com/watch?v=vn9mMeWcgoM