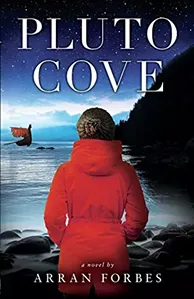 Former University of Idaho student Arran Forbes described her recently published climate fiction thriller, given the current climate state, as sometimes not feeling very much like fiction.

"Pluto Cove" takes place in a dystopian Alaska, Forbes' home state. With elements of dangerous adventure and wilderness survival, the story centers on main character Enna Martinez and her family, who have gone into hiding as a result of a global drought and political upheaval. While in hiding in the harsh Alaskan wilderness, Enna's sister, Callie, goes missing, and Enna is ready to risk anything to find her.
The book, featured in The (Bend, Ore.,) Bulletin newspaper and by public broadcaster Alaska Public Media, received numerous positive reviews.
"I was absolutely blown away by how real the characters and post-apocalyptic world felt," Amazon user Rosalind Worchester wrote. "The themes of growing up, being a sister, motherhood, and adjusting to new realities in a panicked society resonated with me deeply. I also loved the mix of science and the unknowable, and the depth of understanding (or lack thereof) that Forbes demonstrated of both through her story."
Forbes, who works primarily as an intensive care nurse, lives in Alaska but has family in Moscow. She started "Pluto Cove" after the birth of her second child, as a way to navigate out of the challenging postpartum phase. She said she plans to donate proceeds from the book to the Alaska SeaLife Center, a nonprofit organization that focuses on ocean conservation and sustainability around the Northwest coast.
The independently published book and e-book are available on
Amazon.com
.