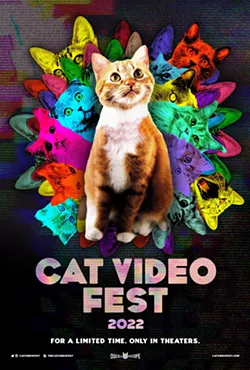 Feline lovers can unite in mutual appreciation of their cute, (sometimes) cuddly and often hilarious favorite animal during CatVideoFest tonight, Nov. 17, at the Kenworthy Performing Arts Centre.


Doors open at 6:30 p.m. for the 7 p.m. screening, a fundraiser for Moscow's Humane Society of the Palouse, presented by Inland North Waste. The no-kill animal shelter will receive 20% of net proceeds from ticket sales. Staff members will be at the showing to share information and photos of shelter pets.


CatVideoFest, billed as "a compilation reel of the latest and best cat videos culled from countless hours of unique submissions and sourced animations, music videos and classic internet powerhouses," screens in theaters around the country annually. More than $50,000 was raised for local shelters at shows in 2019, according to the catvideofest.com website.


The compilation, not rated, is family- friendly and runs one hour, 10 minutes. Tickets, $10, can be purchased at
kenworthy.org/events-calendar/cat-video-fest/
or at the door.